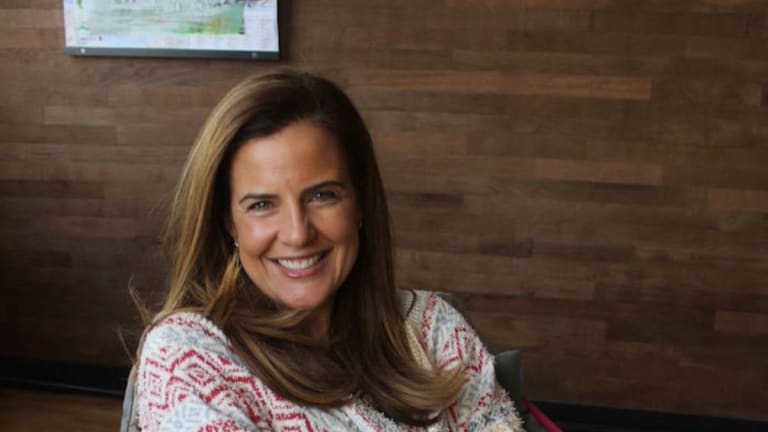 Publish date:
Style We Love Spring Fashion Preview from cabi
When it comes to style we love, this spring fashion preview from cabi is perfect.
When it comes to style we love, this spring fashion preview from cabi is perfect.
Believe it or not spring is coming, and I'm starting to shop for outfits than can transition. When it comes to style we love, this spring fashion preview from cabi is perfect.
Related: The ultimate spring trench
The great news for spring is that color will be so fresh and pretty. Start with a great pair of colored denim jeans like this Citron Skinny from cabi. It's got a great fit and is an ideal way to start bringing brightness into your wardrobe as the days get longer and the weather warmer.
I got the jeans and top for the cabi scoop in San Diego. I got to see the whole 2016 Spring Fashion Show call La Dolce Vita. The collection is all about clothes that will make you look right on trend while also feeling fantastic in your clothes. Cabi stylists are trained to match you personality and curves to your clothes. Even better they come to you! Cabi has a national team of stylists that train in the latest trends and how to put together outfits. If you've never been to a cabi event, make this the spring that you try one!
The Siesta Poncho from cabi is a fun piece that you can wear RIGHT NOW! First of all, fringe is super trendy. It's on bags, shoes and yes, tops. This poncho can be layered over your favorite slim turtleneck now and then a light top as things warm up.

5 Pretty Ways To Organize Your Jewelry
I admit - I'm guilt. Despite my best efforts, my "jewelry drawer" has become a tangled mess of necklaces, bracelets and earrings. This cluttered collection not only makes it hard to see what I have, but difficult to untangle the pieces I do want to wear! This summer, I'm ...read more
This Year's Coolest Jumbo Pool Floats
Pool season is almost here! I can't wait to relax, read a book, and sip a cocktail while lazily drifting in an oversized float. (Just kidding, I have two toddlers--but a swim mama can dream, right?). If you've got a staycation planned, check out this year's coolest jumbo pool ...read more
Crystal Clear and Pristine: Pool-Cleaning Tips
Tropical Storm Isaiah gave us quite the midsummer surprise here in the suburbs of New York City. We just got our power back on after a whole week of darkness! With trees down, debris everywhere, and lots of uncertainty, one thing we forgot to check on: our above ground Intex ...read more
For accessories, I've been wearing this Aria Cuff from Stella & Dot a ton. I'm breaking up with most of my heavy necklaces and bracelets feel perfectly balanced right now.
I admit that I wore a different pair of shoes to work (booties) and then slipped these fringe heels on for the photos. I was trying to show you how I'd work this outfit for real when the temperatures rise.
For the handbag, I got this one at Kohl's years ago. Kohl's has a terrific assortment of bags that are very well-priced and right on trend. I tend to spend more on shoes than handbags so I rarely spend more than $40-$50 on bags, making Kohl's the perfect spot to shop.
Have you started to shop for spring? Are you wearing the pieces now? Leave me a comment, tweet @momtrends, join us on instagram @momtrends or head over to Facebook and join the conversation about style and motherhood. I'm always looking to hear and SEE what real women are wearing.
MORE FASHION TIPS FOR MOMS
PIN IT!
Use Pinterest to save your favorite fashion posts. Be sure to follow our Mom Fashion Pinterest board here.
Momtrends was not paid for this post. This post may contain affiliate links. By clicking and shopping, you help support Momtrends and allow us to keep reporting on trend.