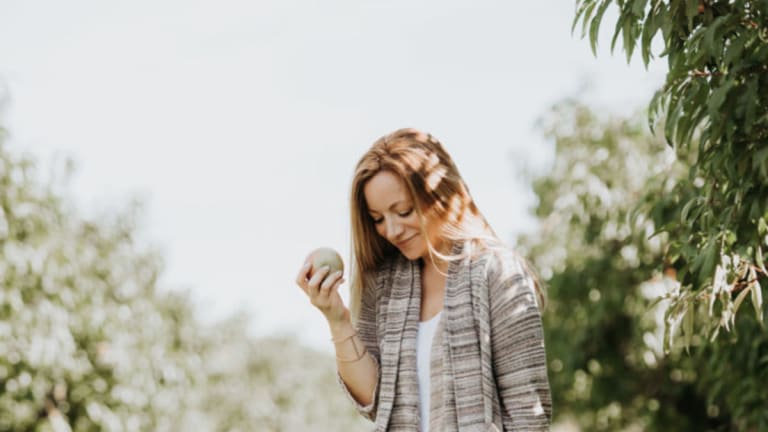 Practical Fall Fashion for Autumn Activities
We're sharing a few favorite must-have fall fashion pieces for all your autumn activities. A simple tee, a chunky cardigan, and boots are essential.
Hello. My name is Lauren and I'm addicted to all things autumn.
Pumpkin patches, colorful foliage, spiced lattés, chunky sweaters, buffalo-check plaid patterns, and apples galore... I. Love. Everything. (Can we just repeat September, October, and November on a loop?)
I'm especially fanatical about autumn outings—trips to the farm for fresh produce, decorative gourds, and essential pie ingredients and on-the-road quests for the most phenomenal foliage.
Related: How to style a blanket coat for fall
I've actually been apple picking twice already this year—once with my kiddos and once with a bunch of fabulously fashionable style bloggers (more on that in a moment, but suffice to say, I was the token mom in the group—and proud of it!—supplying band aids, hand sanitizer, and offering tips on fruits prime for the picking!).
Seriously though, apple picking is still going strong in many parts of the Hudson Valley and upstate, New York. You'll find varietals of apples you didn't even know existed growing on the most picturesque trees. I highly suggest planning a little apple-picking adventure of your own this coming weekend. Or, head to your local pumpkin patch with the kiddos for a picture-perfect Instagram opportunity.

Whatever fall plans you have in store, make sure you're dressed for the occasion in cozy, cute, and practical styles. My seasonal uniform? Basic skinny or boyfriend jeans, a short-sleeve white tee (the temp might be dropping but it feels hot when the the sun is blazing!), and a chunky draped and fringed cardigan perfect for those crisp breezes (this one is an oldie and goodie I dug out of the closet archives!). My favorite fall must-have though is a pair of functional and fashionable Koolaburra boots. These are seriously my new style obsession, and I want to collect the whole fall line—and snag a few miniature pairs for my mini people too!
Little sister to the ever-classic UGG brand, Koolaburra is a collection of comfortable, fun, and free-spirited shoes with a super-cool (super-Koola, if you will!) SoCal vibe. Featuring stylishly flirty touches like fringe and braiding, they're great on-the-go and can easily transition from school drop-off to the apple farm to the pumpkin patch to pick-up and everywhere in between.
This pair features a slight wedge to give me a bit of a boost and a sleeker overall look. It's safe to say Imma be rockin' my new boots and keepin' Koola well into winter!
Browse the whole collection HERE.
MORE FASHION TIPS FOR MOMS
PIN IT!
Use Pinterest to save your favorite fashion posts. Be sure to follow our Mom Fashion Pinterest board here.
This is not a sponsored post. We received a pair of shoes and were invited for an apple-picking adventure.