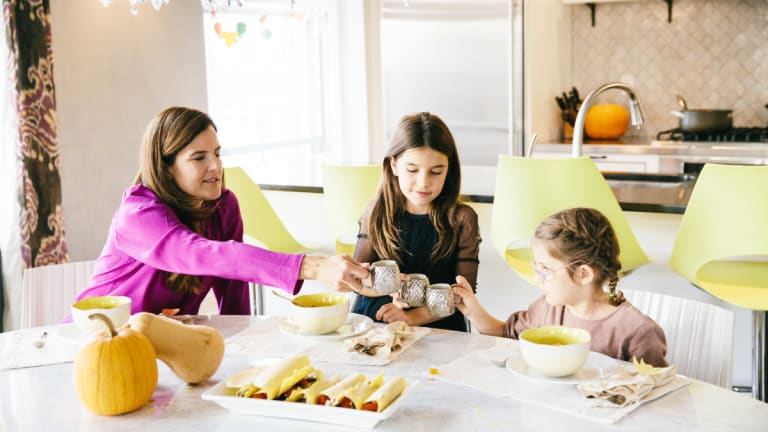 Momtrends Thanksgiving Special with Stella McCartney
Crafting a special Thanksgiving day with kids and a vegetarian menu.
Food can bring families together. On Thanksgiving, I'm sharing a special project that focuses on the kitchen, but there aren't turkeys involved. This feast is meat-free.
This month I teamed up with Stella McCartney to create a vegetarian feast in celebration of the "meat-free" lifestyle that Stella and her family embrace. Our family has been embracing vegetarian meals and we wanted to try to inspire other families to give it a try. My girls were involved in every part of the process-from the decoration to the clothes to menu and the toast. 
First let's talk about the setting. The girls cut out fall leaves to decorate the windows of our Brooklyn home. We used twine to string the leaves. It kept the girls busy while I had to do some chopping that they couldn't be involved in.
Once the decorations were done, we set to cooking. The girls helped with all the mixing and fixing. I find involving them in the process assures that they'll given new things a try at the table.
The girls selected two of their favorite recipes. As I said, we've been eating more and more vegetarian meals. I've tried to make this shift exciting. Tip: focus on the novelty and tastiness not just the nutrition. As they are getting older, they are becoming more aware of the environmental issues we are all facing. The small act of shifting some meals to be meat-free is our way to teach them that little acts matter.
On the menu: Roasted Butternut Squash Soup & AvoTacos
While we don't always look this fancy when we cook, we have been known to dress up for an occasion or two. The lovely team at Stella McCartney dressed us up for this affair. I'm wearing a gorgeous silk top--the color took my breath away. The girls are wearing the Stella Kids collection. My older daughter has on the Misty top and the younger one was in the Skippy Dress.
From our family to yours, Happy Thanksgiving and we hope you give a meat-free meal a try soon. A huge thank you to Stella McCartney and the ladies at Bellamy Blue for these amazing images.
Get the clothes at www.stellamccartney.com/us/stella-mccartney-kids/
TO HELP YOU PREPARE FOR THANKSGIVING CHECK OUT OUR FAVORITE POSTS:
PIN IT!
Use Pinterest to save your favorite crafts. Be sure to follow our Thanksgiving and Halloween Crafts Board.
Momtrends was not paid for this post.