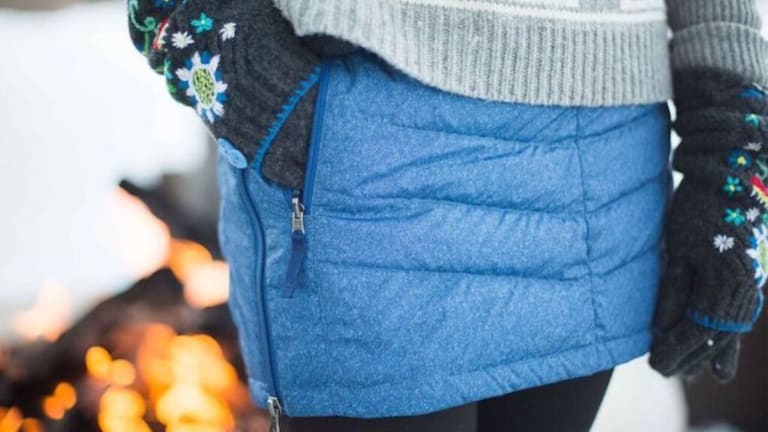 How to Style a Snow Skirt
Winter style gets a boost from a down skirt that's meant to be layered.
My friend Kim-Marie has been a snow skirt convert for years. Me? I took a little more convincing. Last week I was at the SIA Snow Sports show in Denver. I was touring all the latest ski gear and winter fashions when I saw the Skhoop booth and just had to pop over. Now I had a style challenge—how to style a snow skirt with all the goodies I already owned.
As a reminder, this year is about loving what you already own. I already own a ton of ski gear. I have tons of warm sweaters like this old snowflake one from J.Crew. Oh and I've got heaps of leggings and base layers. A snow skirt? Well, that's something new.
I went to visit the ladies at Skhoop, the original ski skirt makers. This design comes from Sweden, and it's all about smart layering. The thing about this snow skirt is that it's really easy to slip on and off and it keeps your bum really warm.
I'm wearing the new mini skirt from the collection—it's only got one side-zipper. The style and the denim color won't be available until fall. But you can shop the current season, on the website.
I love this skirt for snow fun or playing with the kiddos. You don't have to slip on bulky ski pants to frolic in the snow. The skirt is thoughtfully designed so it's slightly longer in the back—perfect for sitting outside and enjoying an aprés ski cocoa or cocktail. It's windproof and water-resistant. Go ahead, take it on the ice rink or the snow tube hill. This skirt is ready for anything.
Style a Snow Skirt
I paired it with my sturdy boots and black leggings. To style a snow skirt, I highly recommend black leggings to keep the silhouette as slim as possible. Another option is to pair the skirt with leggings of the same color. The skirt does have down in it, the Skhoop design team figured out a way to make a warm skirt look as non-bulky as possible.
There are different lengths available, I am keen on this short style—it's young and fresh and it looks proportionate with big boots.
Any time you play in the snow you'll need the accessories. I love the Chaos Hat brand. Whenever we go to our favorite resort shops out West, we see this brand. They use super-soft merino wool and hand embroidery to come up with these sweet accessories. This is a preview of Fall, but you can see a similar merino embroidered ski hat here—it also has a fox fur pom (super trendy). The embroidered gloves are so sweet. They are double layered, long, and I am going to be super-sad to send these samples back.
There are a lot of things to love about Canada. One of them is outerwear. The Canadians know a thing or two about staying warm. A few years ago Sorel boots became trendy in NYC. They look ready for the Arctic with the big sole and fur trim. And I guess they are. But I use this pair as much for grey city-slush as pristine banks of white powder.
I'm not sure why I haven't talked about Sorel before. Probably because they are so utilitarian. But this year is about being real with each other. This is what the East Coast girls REALLY wear to get through winter—sturdy snow boots.
They are incredibly warm and can stand up to the toughest slush. The Tofino Snow Boot is waterproof and has one flaw—the laces are a pain. A simple knot simply won't stay in—so I picked the slacker style. I double-knot the laces and then tuck them in. Now I don't lace and unlace—I just slip them on and off.
And on the theme of keeping it real, do you like the photos sans make-up? Thank goodness for an outdoor glow after a day on the slopes of Breckenridge! I took all the photos with David Neff. 
This is not a sponsored post. There are affiliate links included in this post. Photos may not be reused without express permission of Momtrends.