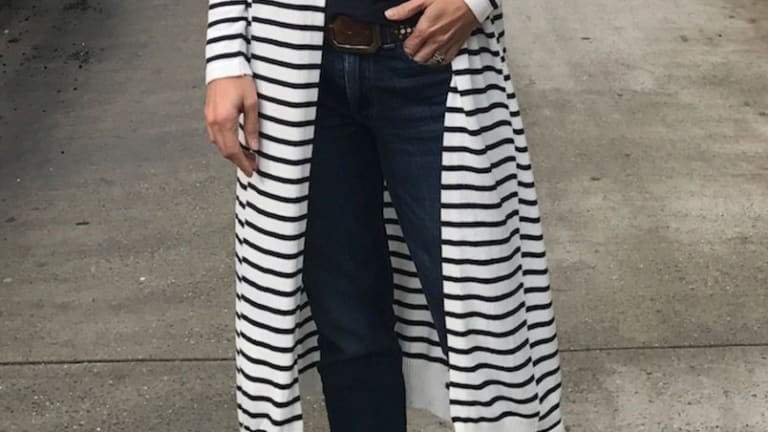 How to Style a Long Cardigan
Style Long Cardigan: A great cardigan adds drama, it adds length and it can hide a multitude of sins. Get four tips on how to style a long cardigan.
I simply love cardigans. Here's a little fashion secret. It's like wearing your bathrobe, but getting style points. A great cardigan adds drama, it adds length and it can hide a multitude of sins. The trick is not to LOOK like you are wearing your favorite robe from home, so I've rounded up some style tips to share with you on hot to style a long cardigan
I'm wearing the Victory Sweater from cabi. It's a little nautical and a little boho at the same time. Navy and white are incredibly easy to wear. Now, let's talk about how to style it.
Four Tips for Styling a Long Cardigan 
 Opt for a fabric that flows, you want a cardi that moves with you and doesn't add bulk or cling to your hips and backside. Look for something that achieves a skimming quality.
Keep the pieces underneath simple and fitted. A fitted tea works nicely (and ladies if you've got dêcolletage y all means show it off under the sweater with a v-neck)
Make a statement with your shoes. You can wear a heeled bootie, a pump or some snazzy sneakers. Be playful and yes, it's great to be a little sexy too.
Keep the long theme going. I wore a long necklace that played off the boho vibe and continued with the long, lean theme.
How to Style a Long Cardigan
My shoes have been featured before, they are the popular Sunset Strip Sneaker from Seavees. These nappa leather sneakers are in heavy rotation around here. When the snow gives me a break and things warm up, I love these.
I am also wearing old Ralph Lauren jeans, an old vintage belt (and necklace that's quite old) and a super soft and versatile tank. The navy Easy Tank is also from cabi. Wear it untucked or just tucked in the front to continue the unfussy look.
Head here to find out more about cabi and to find a local stylist. Cabi is a brand that brings the stylists to you. Your stylist will not only outfit you, she'll show you how to reinvent your look. Once you go cabi, you'll never go back to the mall.
MORE FASHION TIPS FOR MOMS
PIN IT!
Use pinterest to save your favorite fashion posts. Be sure to follow our Fashion File Pinterst board here.
This is not a sponsored post. I was given samples from cabi.