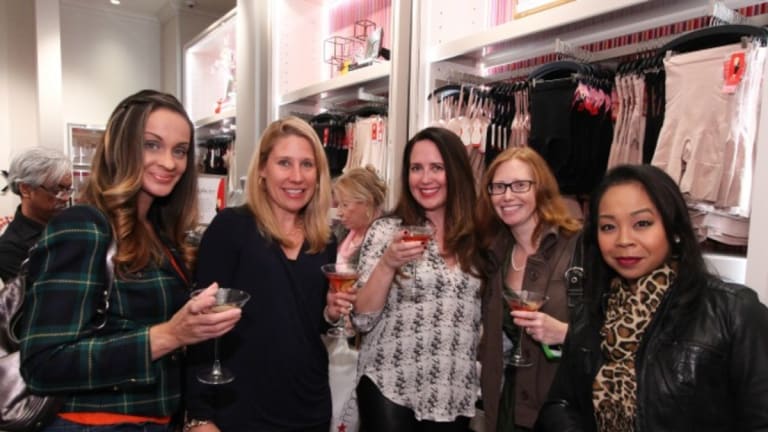 Holiday Style with Spanx
Bloggers from all over the area came to toast the opening of the brand new Spanx store in The Mall at Short Hills.
A couple weeks ago we had the pleasure of hosting an event at the brand new Spanx store in The Mall at Short Hills. Bloggers from all over the area came to toast the opening with us and we all had so much fun! Spanx gave a lovely gift to everyone who attended and there were giveaways galore!
Prior to the event I was definitely familiar with Spanx and, in fact, owned some of their products. What I didn't realize was how extensive their product line was. Not only does it include the shapewear we all know and love, but Spanx also offers apparel like denim and leggings as well. Hi, my name is Kristin and I am now a Spanx apparel addict. Who am I kidding? I'm a Spanx everything addict. Haha! The Bra-llelujah!® Soft Touch Underwire Contour Bra is pretty glorious too. Just sayin'. I forgot I had it on. Any woman who's wanted to rip her bra off at the end of the night knows how amazing that is.
I chose to wear their Ready to Wow Leather Leggings at our event and instantly fell in love. Not only are these slimming faux leather leggings extremely flattering, but they're incredibly comfortable as well. Faux leather leggings can be a bit rigid sometimes. Let me tell you something, the Ready to Wow Leather Leggings are anything, but stiff. They're like butter! Plus, they would be perfect to rock this holiday season. Can't you see them paired with a flowy blouse at a holiday party or happy hour?!?
The same can be said for their jeans. Their Signature Skinny Jeans in Black Wax and even the The Slim-X® Super Skinny Jeans in would be a great part of your holiday wardrobe. Paired with a red lace top, for instance, they would be smokin'! Would you believe they have a hidden shaper? Finally...skinny jeans for everyone! This curvy girl gives two thumbs up!
They've been around since 2000 when owner Sara Blakely started selling her shapely solution to the masses. Since then Spanx have expanded to include apparel, bras and hosiery–all aimed to keep your tummy and other mommy bits in line.
Why did I wait so long? I never wanted to feel girdled or corseted–that is how I viewed the Spanx before I tried them. Now that I've slipped on the Spanx Power panties follow ($30), I have to say I see see their value. My dresses look smooth and svelte, no weird bumps or panty lines thanks to Spanx. The package includes instructions which seems a little horrifying (underwear with instructions–yikes!). But the information makes sense and on my first try I slipped the garment on with ease. I wore them the first time to a cocktail party and I completely forgot I had them on (except when I had to go to the bathroom of course)–they were extremely comfortable.
On the downside, they are not sexy in the least, and I make sure my husband never gets a look at me in them–let's leave a little mystery and romance in the marriage! Now I'm not saying to give up on eating well and exercise, but I do think Spanx Power Panties
Disclosure: We were compensated for this post, but the opinions expressed are our own.
For even more Momtrends, follow us on Facebook, Twitter, Pinterest and Instagram