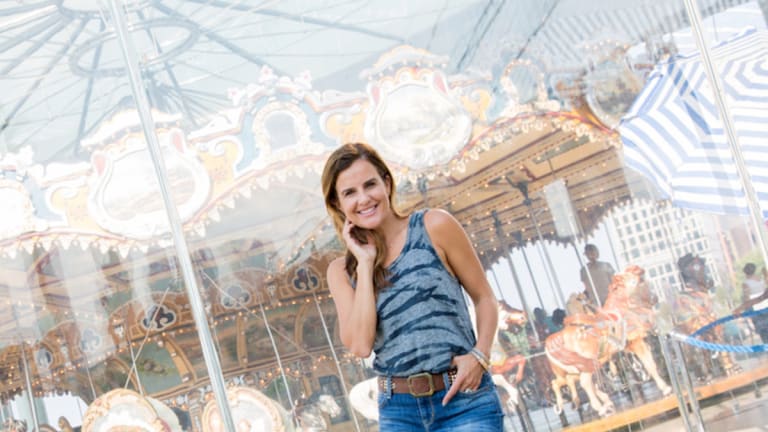 Denim and mom life go hand in hand. The fabric frees us to feel fashionable while also being practical. In a former life, I was known to wear white linen pants and dry clean only skirts, not anymore. When I was approached by Walmart to work on an instagram campaign, I thought sure, I can show you how to style a great denim skirt for fall, but after I got the skirt from my online order, I swooned.
Related: Cool sneaker trends for summer
You Need a Great Denim Skirt for Fall
Here's the thing, denim is the great fashion equalizer. For under $20, you can have a piece that you can wear again and again. What mom doesn't want something she can wear on fashion repeat to make getting dressed in the morning a little easier.
I wanted to show you two ways to wear this #momlife trend. I started with the denim skirt from the Signature by Levi Strauss & Co.™ collection at Walmart.
Two ways to style a Great Denim Skirt for Fall
First the look for right now, the jean skirt, a tank top and flip flops from Old Navy paired with the pencil skirt from the Signature jeans Vintage Trend Collection. I've been wearing this since the end of August.
It all starts with the skirt. It's a flattering length (not too short) and can transition from the warm days of summer to what I like to call fall "boot weather" effortlessly. To transition, I added a cardigan and suede booties.
The Signature jeans Vintage Trend Collection draws inspiration from the Levi Strauss & Co. archives, and combines that with super soft, super-stretchy denim to provide authentic style and comfort. The skirt keeps its style all day without losing shape – this mama doesn't have time for wardrobe maintenance.
A huge thank you to Suzanne Cohen from Gotham Love for these fantastic photos taken at the DUMBO carousel.
MORE FASHION FUN FOR MOMS
PIN IT!
Use Pinterest to save your favorite fashion posts. Be sure to follow our Mom Fashion Pinterest board here.
This isn't part of the sponsored instagram post, I liked the skirt so much I decided to give Walmart extra coverage.