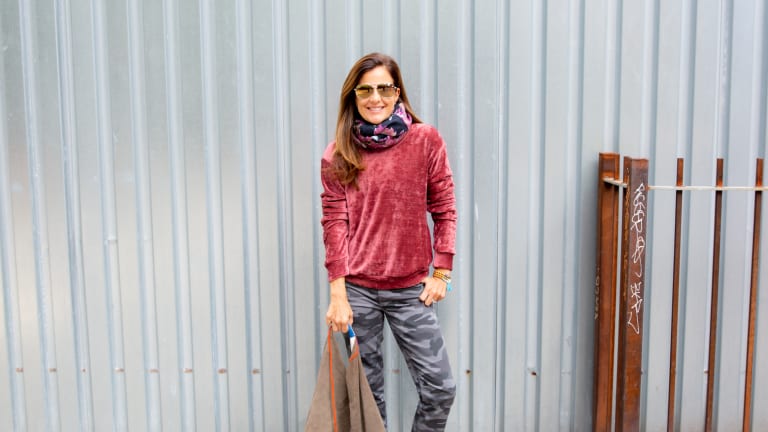 Great Denim Finds for Fall
I'm excited to share these great denim finds for fall that don't involve blue jeans.
Are you ready to integrate some new outfits into your closet? As the temperature cools, I find myself wearing more and more denim. I'm excited to share these great denim finds for fall that don't involve blue jeans. It's a new brand for me and I'm loving the style and fresh take on camouflage.
Great Denim Finds for Fall
As I've shared before, I have a very fertile inbox. I get about 200-300 pitches a week. It can be a little overwhelming and it can also be awesome. 
Overwhelming because I often get pitched things that have zero value to this community. But I do sort through all the junk on the hunt for new things that can offer value to working moms (and we all work, either inside or outside the home). 
I open all the emails and I at least read a line or two before I delete or tell them I'm not interested. Someone from the Kellwood brand reached out to me to share a line they thought I'd like. Kellwood has been developing brands for years. They are carried online and in stores you visit regularly.
ReCreation from Kellwood
The new link is called reCreation. Kellwood developed the line focused on bottoms. They combined their work focusing on fit, fabric and fashion to create this new line of denim.
I loved my try-on session. This pair of camouflage pants were great. They are rugged enough for my weekend adventures in Vermont while looking stylish.
reCreation also sent me the burgundy velour top. I love the rouched sleeves and the easy fit. 
Accessorizing My Great Denim Finds for Fall
To add a bit of pop to the look, I added a floral scarf from Avon. It's an autumnal floral on an infinity scarf. I added these Naturalizer boots (they are 3-4 seasons old) and aviator shades to complete the look.
Oh, and the fun suede bag is from my friend Shweta. She's a fabulous handbag designer currently working on a project for a big luxury brand. 
MORE FASHION TIPS FOR MOMS
PIN IT!
Use pinterest to save your favorite fashion posts. Be sure to follow our Fall Fashion Trends Pinterst board here.
This Great Denim Finds for Fall feature is not sponsored. They sent us samples for review.