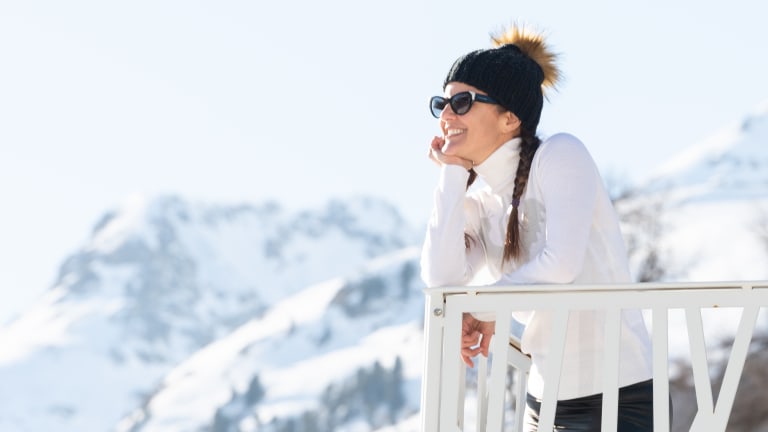 From the slopes to the streets, winter gear with style
New Year, New Gear for living that ski life in Switzerland or back at home.
My ski gear has to be as versatile as I am. My time is split between romping in the mountains and racing through NYC. I love that Rossignol is updating their designs to keep up with women like me. 
Rossignol is a Ski Style Icon
Since 1907, Rossignol has the benchmark in winter sports and an iconic global brand. The French brand has always focused on providing the best technical apparel to keep skiers warm, now they are bringing the mountains to the streets with lifestyle clothes than can be seamlessly integrated to your busy life. 
On a recent trip to St. Moritz, I packed a few key pieces from the 2019/20 Rossignol Winter Collection. On this trip to Switzerland, I gave myself a bit of a fashion challenge: I traveled only with carry-on bags. This trip was a test for how versatile clothing can really be. 
Traveling light is one of my superpowers. This means I need styles that can be worn on the mountain and look appropriately chic at a swank hotel. 
A Great Jacket From City to Ski Lift
The first piece I'll call out is the Rossignol Women's Atelier Jacket. This black jacket was awesome on the mountain (I'm wearing it here with the Rossignol Women's Type Pant). It's majorly wind resistant and has pockets in all the right places. I love the roomy hood (my helmet tucked in perfectly) and the length was just right on my 5'7" frame. This jacket is an ideal layering piece for any ski or snowboarding adventure. 

Back in St. Moritz, the jacket looked fantastic paired with leather leggings and ankle boots. To dress it up, I wore it with the Rossingol Classic Roll Neck Sweater. I picked the white version (it comes in four colors) of this classic turtleneck. I love the slim fit of this soft sweater and the merino-wool knit is whisper soft against your skin.
But this sweater also needed to hit the slopes with me. On our last day of skiing, I layered the Roll Neck under a vest. When it was time to hit the aprés ski scene, I felt super stylish thanks to the pop of silver on the rooster. The rooster is a part of Rossignol's history as a symbol of expertise. 
Get the Classic Roll Neck Sweater Here
The Perfect Winter Boot from Rossignol
While plenty of people stopped to ask me about my sweater, the Rossignol  1907 Courchevel Boot was the real show-stopper. Maybe it's the pops of red on this classic boot or the silver accents? I'm not sure exactly why this boot turned so many heads, but they are now my favorites. 
Yep, they are warm enough to wear on the coldest days in Switzerland or NYC. This ankle boot can be dressed up (hello leather leggings) or paired with your ski gear as you travel back and forth to the mountain.  It has style that looks ready for the runway, but is secretly a technical wonder. A chic boot that keeps your feet warm and offers a sturdy grip on icy streets is something every woman needs in her life. 
Made in Italy in the same factories as Rossignol ski boots, these boots are crafted from high-quality leather and lined with a waterproof breathable insulation. Plus they have serious soles. Here's some fancy technology: the rubber soles on the Courchevel Boot stimulate blood circulation thanks to patented Sensor 3 technology. Bonus: in addition to being warm and sturdy. they are also designed to help relieve pressure on the soles of your feet.
Updating Your Winter Style with Rossignol
With these three pieces packed into my roll-on suitcase I was ready for all the adventure and fun Switzerland could offer. 
Check out the full collection at the new NYC pop up store in Soho (108 Wooster St, New York, NY 10012) or online at www.rossignol.com/us
MORE SKI FEATURES FROM MOMTRENDS
PIN IT!
Use pinterest to save your favorite family travel features. Be sure to follow our Ski Moms Pinterest Board.
Photos by Arnaud Delalande of www.ad-stmoritz.ch
This post is in collaboration with Rossignol Apparel. I was not paid for this post, but was offered product to test.