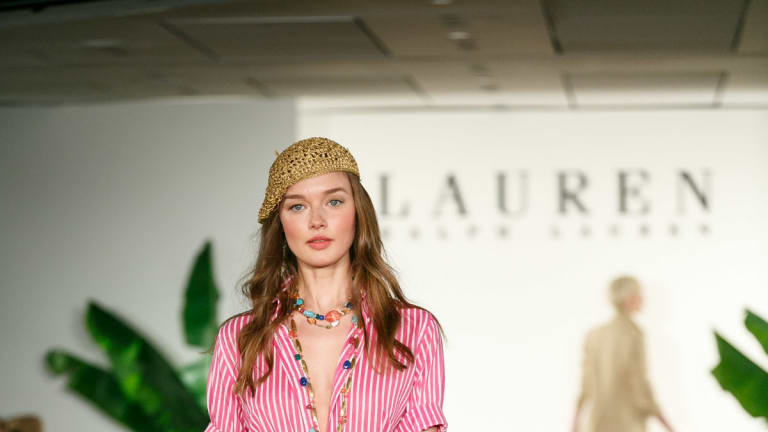 First Lauren Ralph Lauren Runway Show
Check out the first ever Lauren Ralph Lauren runway show in New York City.
I was so excited to attend the first ever Lauren Ralph Lauren runway show in New York City this month! The exclusive event was held at the Hearst Tower and was hosted by Nina Garcia (Creative Director of Marie Claire). The idea was so savvy--invite the top customers in the area to preview the collection and to celebrate IN SEASON fashion.
So much of the runway who-ha is about clothes that won't be worn for months and months. The build up is exciting, but also a little frustrating. Showcasing fashions that can be worn now...well that's smart. Little wonder isn't it that Ralph Lauren has built such an empire.
Fellow blogger, Jessica Shyba and I had front row seats for the show and were then treated to a swank cocktail reception with glorious views of the NYC skyline.
But I know you want to know about the clothing. What was newsworthy about the collection? Let's start with a few of my favorite looks.
These floral pants are so chic. The drape on them is amazing. And let's be bold ladies and mix prints. Love this paired with stripes.
Ralph has always done nautical well. This season doesn't disappoint. The cheerful yellow jeans are paired with a supple navy leather jacket and striped sequin top. Loved this from head to toe.
This was the look I'm most likely to wear. I'm smitten with pairing heels and shorts this summer and spring. The orange heels and bag caught my eye.
The evening dresses were all gorgeous--an explosion of jewel-colored gowns draped to perfection. This plum beauty stood out for a few reasons. One, the color is smashing. Two, the model. Notice anything? A runway model that isn't a size 2. Let's all shout hurrah shall we!
Shop the collection here www.ralphlauren.com all the looks will be available online and in-store soon.
I was not paid for this post. I was given a Lauren outfit to wear to the event. All opinions are my own and not those of PRL.