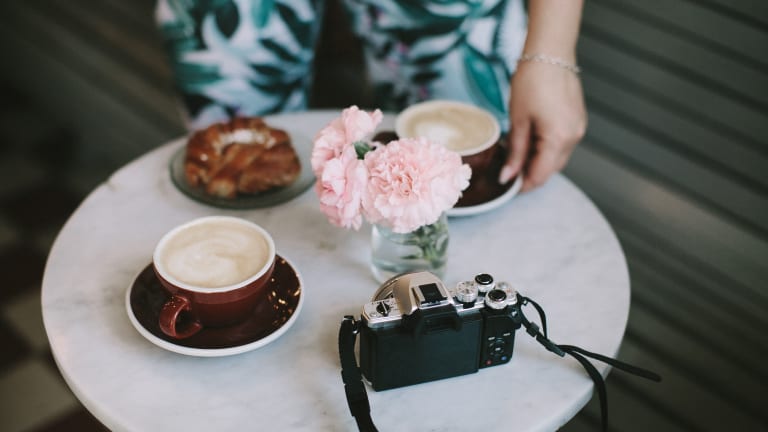 Comfortable and Cute Outfit Ideas for Your Next Trip
Travel in style with this easy look. Coming up with outfit ideas for your next trip
As you read this, unless there has been a travel catastrophe, I will be in Nicaragua. This is the travel outfit I plan to wear down to Central America. It's all about comfort, practicality and doses of style.
I try to pack only carry-on. So everything needs to do double or triple duty. I will wear these pants again and again. I'll pair the top with cut-offs and the hat will go to the beach every day.
I start planning my outfit around one or two pieces. This one began with the essential lounge pant and the easy slip-on shoes. I've featured this pair of pants from Splendid before on Momtrends. They have a drawstring waist and zippered ankles. The closest thing to wearing sweats without looking like you are in pjs. I paired them with the cut-out Tom's flats (Black Moroccan Cut Out) and a sleeveless top from French Connection.
The other accessories besides the shoes are the wide-brim hat from Anthropologie and a bracelet from Kohl's. The hat will be seeing a lot a beach time as I attempt to avoid getting any new wrinkles! The bracelet is easy and so inexpensive. I tend to NOT bring anything fancy on these adventure trips--I will likely have left my engagement ring at home. Why risk it?
Now it's your turn. Are you heading out of town? What will you pack? Let me know where you're headed and I'll check in on the comments via my phone. Trying not to bring the laptop--we'll see!
MORE STYLE FROM MOMTRENDS
PIN IT!
Use Pinterest to save your favorite fashion finds and be sure to follow our Mama Style Spring Fashion board here.
This post is not sponsored. There are affiliate links in the post.