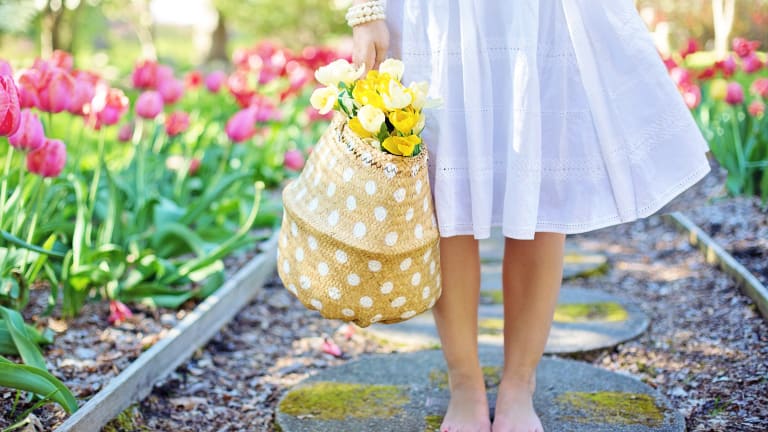 Celebrating Spring Fashion with CAbi
Now the reality. It's time to shop. Let's take a look at what I'm ordering for spring from cabi.
"Our true style is discovered when we are connected." Kimberly Inskeep shared this bon mot at CABiScoop in January and it resonated with me. Twice a year the CABi leaders gather the entire sales force for a meeting--it's part girls weekend, part success seminar, and part fashion explosion. Yes, it's a whole lot of awesome. Scoop brings together the 3,500 CAbi Consultants for a few days of absorbing the latest collection as well as attending a host of seminars aimed to help the consultants become savvier businesswomen.
Related: We found the perfect Valentine's date night outfit. 
When CAbi women speak people listen. Kimberly's words rang true. In the 7+ years I've been blogging about personal style for Momtrends, the process has been one of self discovery.
As comments roll in and as I check out other blogs, I've truly distilled what works for me and what doesn't. Being connected to other stylish women has made all the difference.
It's just like that in the CAbi community. We've share why we think CAbi is a great career--I mean selling fabulous clothes while getting to set your own schedule and work with amazing women--it's really a no-brainer why the sales team attracts new talent.
What I learned after spending a few days marinating in the awesome of CAbi is that they value lifelong learning and career building. This brands doesn't want women to sign on and fail. They want true, authentic success.
While at the "scoop," I got to pop in and out of training. I heard the "rookies" share why they took the plunge (mostly the clothes and the infectious success). I heard seasoned veterans share how they continue to set new goals. There is no room for apathy in this energetic group.
Training happened in formal rooms and in small groups. No one shares like a CAbi girl! We all know that just about anyone can sign up for in-home sales. The invites roll in each week for a sip and shop event. While it's nice to socialize, these events are starting to not feel so special. CAbi is a completely different experience. Sure there may be wine and there will definitely be fun, but you're also going to get a serious style education from your CAbi consultant.
CAbi uses Scoop to deep-dive into education. Designers train the consultants to identify good fits for different body types and sizes. They want you looking great in your clothes--every great outfit created is like a free advertisement. Got a problem area? Don't worry, the CAbi ladies have been shown how to "cabiflage" trouble spots and draw attention to the parts you love.
CAbi consultants have a goal to help women find the pretty again. They bust you out of ruts and get you to try something you've never tried fashion-wise. They'll also help you shop your closet and mix current season to past season to create fresh looks. Here's what they do that sets them apart:
Speaking of CAbi girls, no one dresses like a CAbi girl either. Though they all shop from the same collections, these ladies know how to add flair. They mix seasons, prints and textures like true seasoned stylists. The "eye" that these women have for style really sets them apart.
No doubt they are all going to have a blast selling Spring 2015. I had an awesome seat for the fashion presentation and I wanted it ALL! A highlight of the weekend, the fashion show was produced to perfection. The music was pumping as the models strutted I was dizzy with excitement.
I'll be making my appointment soon to head to the CAbi showroom with my consultant. And I'll be praying to the weather gods to bring some sun so I can start splashing out in spring!
Find out more about the clothes and the careers http://www.cabionline.com/
MORE FASHION TIPS FOR MOMS
PIN IT!
Use Pinterest to save your favorite fashion posts. Be sure to follow our Mom Fashion Pinterest board here.
This is sponsored content. All opinions are my own.