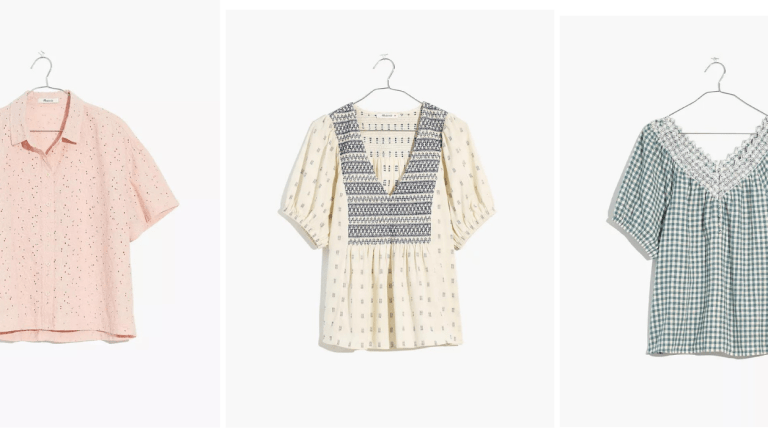 Business Casual Outfits for Teen Summer Jobs
Easy mix and match pieces suitable for summer work and interviews that are well-priced and unfussy.
Summer internship season has arrived. I was on the phone with a friend this morning putting together ideas for her daughter. I decided to organize my little capsule wardrobe for you. These pieces can be worn for work and also make it to college or into a high school wardrobe. 
Business Casual Outfits for Teen Summer Jobs
I tried to stick to a neutral palette, but added in some fun prints and colors. You can have fun with the skirt prints and dresses. Get the tanks in fun colors too. I tend to spend more on the pants and dresses and skimp on tops and skirts.
Tanks. Avoiding anything low cut is essential. That's why I like tanks. They are cool and easy to wear without being revealing. This fun one is from Target.
Cardigan. Cuter than a blazer, and a nice layering piece for summer.
Solid Tanks. Wear this with one of the print skirts. You can't beat the price...$6.
Dresses. This one from Loft is great because the neutral colors are fun and can look young, but it can also be worn with a cardigan or a blazer to make it look more serious. And it's not too short. That's key.
Shirt Dress. Another style that is super easy to style with sneakers or flats. This one from Draper James. It's a little more expensive, but I love it.
Skirts. This pull on style from Madewell is the perfect length. 
High waisted cropped khakis. The high waisted trend is being embraced by all ages. Amen. You can wear these with any flat and just about any top. If you daughter doesn't like fitted pants. These are a great option. $38 from Old Navy.
Skirts. Another one from Madewell. 
Flat front pants. Loft has a great selection. This pair comes in a bunch of great neutral colors. This is an essential staple. The fit and feel is reminiscent of denim, so it's not too hard to convince teens to wear them. Get one white and one navy. 

Three Tops for Summer Internships
Tops. Another one from Madewell. They have a great collection right now.
Tops. This is from Madewell. If your girl likes more boho stuff, this is a great top
Tops. Gingham linen...also Madewell.
I hope this helps all the mamas with not a lot of time, but a lot of stuff to get done.
This is not a sponsored post.