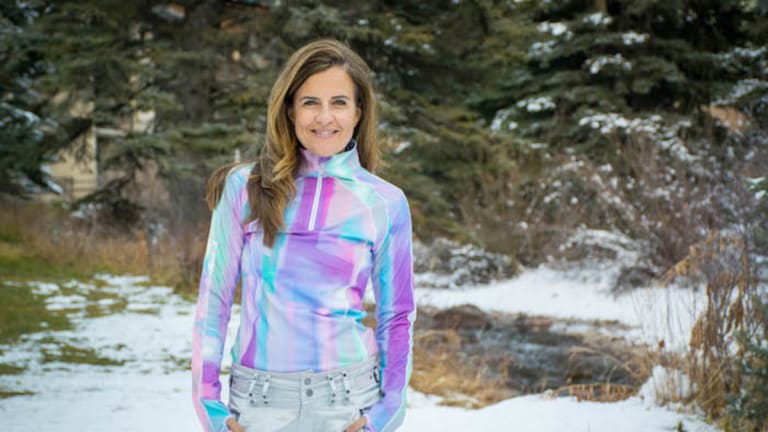 Skea: Best Looking Ski Coats
Skea ski fashions are made by female skiers for women who ski and love to look good.
Finding the best looking ski coats for women isn't easy. A lot of gear is boxy, boring and built for function, not necessarily form. My ski buddy, Kim-Marie, introduced me to Skea—ski fashions made by skiers with a ton of style. The designers are ski instructors, professional skiers, and US ski team members—they know what works.
Related: Luxury mountain life at Powder Mountain, Utah
I asked for Skea to send me some samples to ski-test on my recent trip to the Sonnenalp at Vail. As you know, we're all about functionality here at Momtrends. I don't write about gear that I don't experience first hand, Skea performed on the mountain and met my strict style standards.
Most ski-wear is designed by men and it shows. The gear is cut for men and then dressed up in more female-oriented colors. This gear is designed for women by women. Take the Didi Park. It's incredibly warm, and has pockets everywhere.
The jacket is a goose-down blend, with loads of pockets and a powder-skirt—all the essentials I look for, but it's much more. The Didi looks great on and I adore the removable faux-fur hood. The design gave me tremendous mobility, and I appreciated the pit-zip ventilation when I worked up a good sweat in powder.
I just bought a new ski jacket last year on our trip to Mt. Tremblant, otherwise I would have added this jacket to the mix too. I restrained myself because I am on the path of less is more shopping. But the Abalone print is incredibly pretty, honestly, tell me, have you seen a better looking ski jacket than this?
On to the ski pants. Who doesn't love a great pair of cargo pants? The style looks great on the street and on the mountain. These silvery Cargo Pants from Skea are flattering and have all the pockets you need to stash your lift pass and lip balm. I'm wearing the Silver Ripstop Cargo—but there are plenty of other colors too. I see so many women stuffed into ill-fitting pants in the lodge. A lot of muffin-tops are happening, ladies, and it doesn't have to be that way. Skea gives you room for your hips without adding bulk.
I ended up loving these so much I bought the sample they sent! I wore them in deep powder when we skied Utah and they held up fantastic.
Base layers are also really important for ski moms. An effective base layer keeps your core warm and also makes you look fantastic when you take your ski coat off. The Avia base layer looks good enough to go out for drinks in, yet also keeps you toasty. The fabric is soft enough to wear right against your skin—I sized up a bit and wear a thin thermal layer underneath. We do a lot of icy East Coast skiing so I really layer-up.
This base layer also has my favorite things—thumb holes. These thumb holes keep the wind from sneaking up your arm. Ladies, always look for thumb-holes on your ski gear. I opted for the abalone print for the base layer too—it looks great when we go out for aprés-ski dinner and drinks.
Here's how they make such incredible gear; Skea works where they play. The company is based in Colorado, which means it's great for ski testing. SKEA is designed for women who ski by women who ski.
Monday Mingle is changing this year. We are focusing on doing more with less. Our features will talk about working with what you already own and shopping your closet. I'm eager to make this shift with you. Many peers are focused on affiliate sales and getting you to buy, buy, buy. I want you to collect experiences not shoes. Get ready for the shift and to love everything you own.
The pants and base layer...well, I couldn't resist them. I bought the samples! Last year I was on snow more than 60 days. I take my research seriously for the Ski Guide. This is the year I am only adding things to my wardrobe if I love them and need them.
These two pieces worked with what I already own, they fit great, they were well priced and they work hard on the mountain. I got to check all the necessary boxes and then boom! Bought them.
Check out more ski gear in our Family Ski Guide
MORE SKI FEATURES FROM MOMTRENDS
PIN IT!
Use pinterest to save your favorite family travel features. Be sure to follow our Ski Moms Pinterest Board.
This is not a sponsored post.