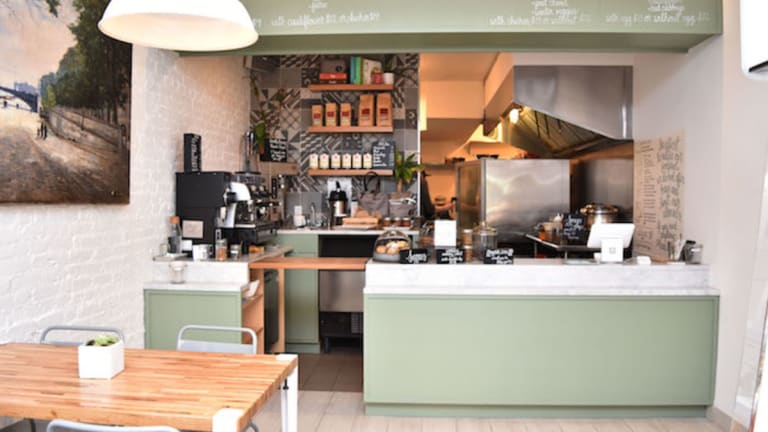 Ancolie New York
Ancolie was a carbon neutral establishment and had a four-star rating
It's the fourth installment of what we love to eat in NYC. Today I'm wearing ALL things I've owned and adored, and heading to a favorite lunch spot. Ancolie was introduced to me by a friend. Isn't that the way we find the gems? We listen to our friends. Well, that's my job, sharing with my friends. When you are hungry and want to do your body a favor, head to Ancolie in New York.
The idea is to offer great food that is ready to go. Start with a fantastic layered salad, then get a perfect coffee and don't forget a sweet treat. Chloe (shown above), is the mastermind behind the brand. Thank you, Chloe, for giving us better lunch options.
Before we jump to the eats, let's talk about what I'm wearing. Everything is OLD! Don't worry, I'll start talking about spring clothing soon enough. For now I am wearing what I own. I'm embracing winter, and the season I'm in right now.
Most blogs are telling you to think about spring. But friends, it's 30 degrees in NYC and we are still in sweaters and boots. And you still have to get dressed every day and you have to feel good. And you don't have to spend any money.
If you live in a cold climate, I know what you are feeling right now. I see all the pretty spring clothes I cannot wear until late April and I want them. And I want to feel better about my closet.
Ladies, clothes can't change the weather. It took me decades to figure this out. We have to embrace the now. I do it with owning things I adore. This bomber jacket has been worn HUNDREDS of times. These boots have had to be resoled. The jeans barely can get washed, they are in such heavy rotation. My fashion advice for the beginning of March: dig into your closet and have fun.
Wear some leather now--soon it will be too hot to wear it.
Pull out your scarves and figure out new ways to tie them.
A pair of boots with heels will always make you feel sassier and more fabulous.
Now back to the food. The presentation, looks so pretty, it's alive with the colors of REAL FOOD. The containers are meant to show off the fresh ingredients. I tried the Ancolie Jar with walnuts, lentils and goat cheese. Delish! After one of these salads you'll feel satisfied, not bloated. It's a great midday spot.
I found everything I tasted to be super fresh and scrumptious. I hope they open a Brooklyn outpost soon, for now, I'll keep heading into the Greenwich Village to pick up the perfect lunch. If you have a few minutes, order a tea or coffee to enjoy in store. Set up by the window and watch the world go by.
This part of New York is full of students, artists and tourists. You've literally got a window to the world. Why not slow down and enjoy the views.
Find out more about www.ancolie.co here
Other NYC ideas for foodie fun for Two Hands Soho and Stylish Tea Time in Soho and Murray's Cheese.
This is not a sponsored post. There are affiliate links in this post. We hope you shop and support Momtrends