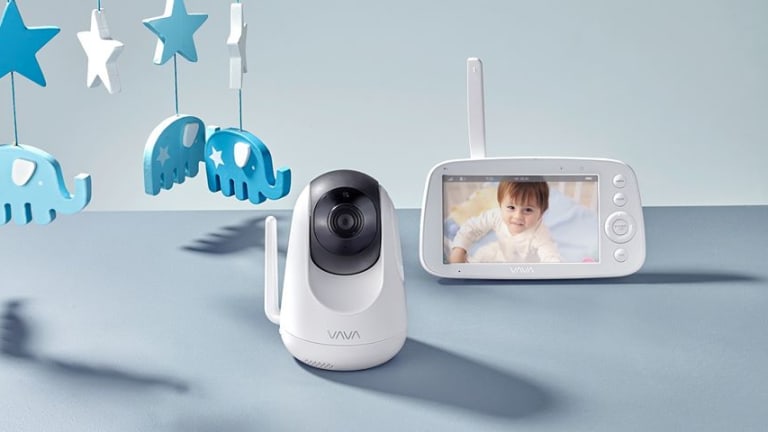 Our Favorite Baby Monitor for New Parents
We're giving away a VAVA 720P 5" HD Display Video Baby Monitor
Baby's first night home is a huge event. You'll likely feel excited and a little overwhelmed at the thought of caring for a tiny human. We've got advice to make this momentous occasion more blissful than stressful. Plan ahead: and try to set up the nursery as much as possible. One item you won't want to skip is a method to check in on your baby. Our favorite baby monitor for new parents is the VAVA 720P 5" HD Display Video Baby Monitor.
Enter to win a VAVA Video Baby Monitor below
VAVA 5" HD Display Video Baby Monitor 
I'm all about putting the joy into parenting and removing the stress. Vava to the rescue! This new VAVA 5" HD Display Video Baby Monitor is the perfect gift for parents. It's high tech without a complicated set up. 
Calm transitions will set a perfect tone for the newest member of your family. A new baby can often wake every 2-3 hours to feed. You won't be getting six-eight hours straight for a few months. When baby DOES settle in, new parents can rest a little calmer when they feel calm and connected to baby. That means using a monitor to check in.
As you and your baby begin to bond, the monitor will help. Sometimes a little self soothing is ideal, and if you give a fussy baby a moment or two, baby will settle in for sleep. Another reason to use a monitor? Frankly it's fun to see all the cuteness going on. 
Features to Look for in a Baby Monitor
The VAVA offers crisp and clear real-time images. Because we don't always need to rush into the nursery. The large 5" 720P handheld display is 3 times more detailed than previous baby monitors making it easy to check in on baby. The monitor also boasts full color by day and greyscale infrared images at night plus up to 24 hours of battery life.
I often worried about sleeping through the night when baby needed me. VAVA has Effortless Monitoring. It's designed with LED noise indicators and an external thermostat that keep you accurately updated on your baby's wellbeing. You can personalize the setting (there are 7 volume levels) depending on your needs. 
Find out more about the Vava here.
More Momtrends for new parents
Pin it! 
Use Pinterest to save your favorite gear for baby. Be sure to follow our Baby Things to love board here.
This Our Favorite Baby Monitor for New Parents feature is sponsored.