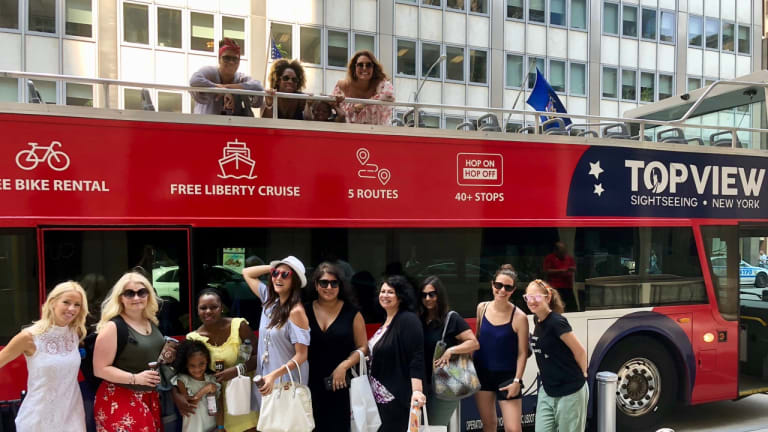 Touring NYC in the #TrendsBus
NYC is a place for movers, shakers, and trend-makers! Whether you're a native New Yorker or an eager, excited tourist, there's always something to do, something to see, and somewhere to go!
We recently hosted a group of local influencers on a #trendsbus tour through the city that never sleeps aboard a Topview bus. We rode around the city and made multiple stops to see, taste, and touch some Manhattan musts! Topview NYC sightseeing tours allow you to hop on, hop off, and explore all that New York has to offer.
Of course, we started our tour de downtown with a refreshing pick-me-up: a True Iced Espresso from Peet's coffee. Every NYC mama needs coffee to get her from AM to PM, from the east side to the west side and every where in between. This intensely flavorful java drink packs a punch and delivers a much-needed boost with pure ingredients and minimal sugar!
A healthy and delicious on-the-go snack is also an essential in every mom's arsenal. We supplied our bloggers and the kiddos who joined them with KIND Snacks--because they're beloved by eaters of all ages. 
Once Mom has got the jive, she's ready to look as good as she feels. That's why we made a pit stop at Glam + Go, an amazing blow-out salon with locations in NYC, LA, and Miami. Their signature blowout is just 30 minutes; with the option of a 15-minute "express" (for when you're really tight on time.) Better yet, you can opt for a membership to receive unlimited blow-outs--a dream come true for this messy-maned mama.
Next we stopped at a local Dig Inn for a hearty and healthy lunch. We fueled up with a farm-fresh veggie-centric meal that was as pleasing on the eye as it was on the tastebuds!
Our bloggers quenched their thirst on the move with Body Armor's super-hydrating drinks--great for those epically hot NYC summer days. 
Since you can never have too many snacks when you're driving around from South Street Seaport to the World Trade Center and beyond, we enjoyed Imagine Snacks, a line of wholesome foods like real yogurt, fruit, and cheese made portable, tasty, and fun.
This is a sponsored post. All opinions are our own.