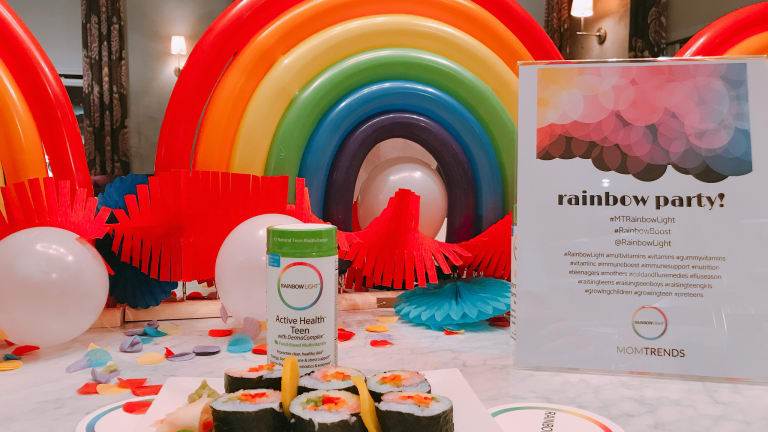 Sushi Making Party for Tweens
#MTRainbowLight Event highlights healthy options for kids
I had an absolute blast making rainbow sushi this month. We teamed up with Rainbow Light to call attention to the needs of teens and tweens to eat healthy. I hosted a sushi making party for tweens in my home and invited a few blogging friends. We rolled sushi and talked about ways we can keep our kids from taking too many sick days.
Why do Teens Need Vitamins?
With winter coming up, cold and flu season is here. I'm trying to take steps to avoid my middle schoolers getting every cold that makes its way around their school. I want to give them strong immune systems.
In our house we try to make fitness a priority and we plan out healthy meals for the kids (including getting them to eat plenty of fish). But I'm eager to know if there are other ways we can give the girls a boost. I was excited to learn that Rainbow Light is focusing on kids' health.
Rainbow Light offers organic multivitamins filled with immune boosting ingredients. I like them for what they put in AND what they leave out. Rainbow Light is gluten-free, vegetarian and free of artificial colors, sweeteners and preservatives.
Sushi Making Tips
My blogging friends and I chatted about working supplements into our familys diet as we hand-rolled sushi. Our guest chef, Aaron Diaz, created veggie dyes to make the rice rainbow colored, and then supplied us with the yummy veggie fillers.
Ingredients
Prepared Sushi rice 
Vegetable dye (we used beets and edible flower dyes to color the rice
Seaweed wrapping paper for sushi
Thinly sliced raw veggies (try peppers and carrots
Aaron guided us through the rolling process and then sliced up the rolls after the kids were finished. We paired the sushi with colorful fruit kabobs for an overall health-conscious meal that the kids were able to prep without much help from adults.
Boost Your Teen's Immune System with Rainbow Light
The sushi making was a huge hit and the bloggers were all eager to try the new Rainbow Light products. We all know now that we are headed into the busy holiday season that Rainbow Light vitamins can help our tweens and teens get their daily vitamins.
My one wish was that the Active Health Teen was a bit smaller. My girl's struggle to swallow the pills so I end up chopping them in half to make it work. The Gummy Vitamin C Slices are awesome, because they are so easy for kids to take. I think theses are great options to help my family stay healthy during cold and flu season.
Find out more at https://www.rainbowlight.com/
Do your teenagers take multivitamins? Let me know in a comment below.
This Sushi Making Party for Tweens event was sponsored by RainbowLight.