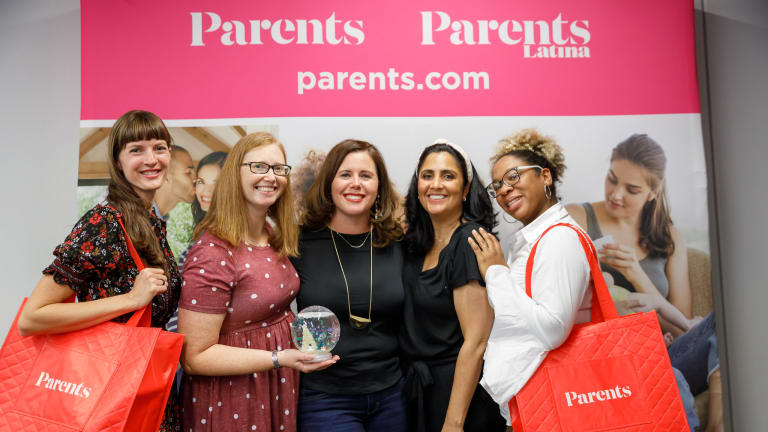 Meredith #MTNightOut with NYC Mom Influencers
Spending a fun night in NYC with great brands for moms
It's always fun learning about new trends, and when you get to do it while playing with friends, it's even better. We were thrilled to one again host our #MTNightOut with some of NYC's top mom influencers at Meredith headquarters in the city. We made the most of our time together learning more about mom-friendly brands and discovering how to integrate Parents editorial into mom life.
Clorox for quick clean ups
With the holidays upon us, I know one thing to expect is the unexpected. Clorox® Disinfecting Wipes conveniently tackle life's messes. From a quick clean up when my mother-in-law is coming over, to a kitchen table rescue after a crafting session, Clorox is my partner for quick clean ups.
To show our blogging friends that these wipes are indispensable for moms we did a bit of holiday crafting. We all made snow globes that were inspired by winter in the city. As we crafted, things got a little messy and fun. It was the perfect time to try out Clorox® Disinfecting Wipes.
From spilled glitter glue to finger paint, Clorox® Disinfecting Wipes can help moms remove germs, bacteria and countless other nasties that might be lurking in your home.
Our blogging pals loved showing off their creativity as they made snow globes. We worked to create winter wonderlands and then cleaned up in a snap. It's a great reminder that crafting is a perfect holiday playdate and that keeping things tidy doesn't have to be hard.
Clorox thinks, clean spaces serve as a springboard for kids' creativity – helping them to embrace both creative play and work
My first tip is to use Parents for craft inspiration. The website and magazine are full of inspiration. Next: start with a clean counter or table. When a child's workspace is clean, the majority of parents agree that their kids are more productive and creative. Whether it's setting the stage for creative play or wiping down the counter after a messy art project with the kids, Clorox Disinfecting Wipes provide a convenient and effective way to tackle life's messes while killing 99.9% of germs and bacteria for fewer sick days.
Momtrends Tip: When kids watch their parents tidy spaces with Clorox Disinfecting Wipes, they learn good habits and how a clean space can lead to a successful future.
Find out more here: https://www.clorox.com/products/clorox-disinfecting-wipes/
Bath Time with Baby Dove
There's nothing more yummy than a baby's skin. Mom's know that less is more with caring for them. Did you know: Babies are born with a living protective layer of microflora on their skin, known as their microbiome. Unique to each baby, the microbiome works to maintain skin's health while also helping with skin's natural protection and nourishment.
We know moms have a lot to do. We want to help you bring the best products into your home. That's where Baby Dove comes in.
Baby Dove wants you to nurture the microbiome your baby was born with. Baby Dove is uniquely made with prebiotic moisture and 100% skin-natural nutrients to gently nourish your baby's delicate microbiome.
To celebrate all things Baby, we crafted tub totes for babies complete with bath toys and other essentials. Bath time was one of my absolute favorites when my girls were babies.
Making tub time extra fun is as easy as getting a few small tub toys, like a rubber duck or a squishy bath book. Turning the nightly tub into a soothing ritual helps Baby sleep better and feel more connected to Mom and Dad. With Baby Dove, bubble time with Baby will be even sweeter.
Find out more about Baby Dove here. www.dove.com/us/en/baby
Making Scents with Parents
In addition to the sponsors, we also connected with the editorial team at Parents and Parents Latina. The editorial team for these magazines is amazing. They inspired some cool experiences for our mom friends.
One thing that can make me feel like a pulled-together mom is a spritz of scent. It takes no time at all and reminds me that I'm more than just a mom.
Parents knows that moms need to be reminded that it's ok to pamper ourselves. We had a scent station to create our own scents.
We learned about base notes, top notes and mixing scents. Each influencer got to create a signature fragrance. Our mom blogger friends loved the experience.
Halloween Snack Making
With Halloween this week, we had a ton of fun whipping up some spooky treats. Inspired by Parents magazine editorial, we made smoothies and sweet treats.
These creepy kabobs were a ton of fun. We started with some cut fruit and marshmallows and placed them on wooden skewers. Momtrends Tip: We stuck the "eyes" on with peanut butter! Then we used an edible pen to make faces.
These fruity kabobs are easy to make and an awesome alternative to candy. If, however you do want something sweeter, these chocolate spider donuts are just the thing. We started with a chocolate donut and then added pretzel sticks for the legs.
Add a touch of chocolate and sprinkles over the top and you've got a treat that'll be a total crowd pleaser.
#MTNightOut Mom Influencers Highlight Meredith Partners
From food to cleaning to baby care, we're always on the hunt for the latest and greatest. #MTNightOut with our NYC mom influencers was once again a blast! A huge thank you to Meredith's magazine and advertising partners for making this event a huge success; and we are so grateful for our blogging friends who joined us.
More Momtrends Events
This #MTNightOut Mom Influencers Highlight Meredith Partners feature is sponsored.