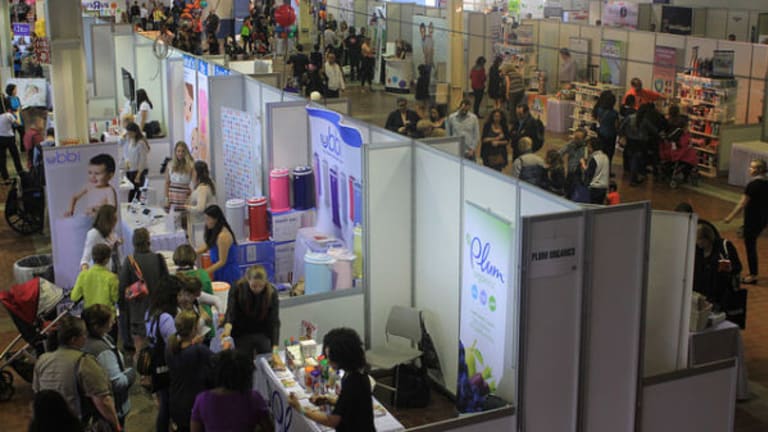 Publish date:
Momtrends Blogger Lounge at the New York Baby Show
Thank to the 100 bloggers who participated in the Momtrends Blogger Lounge!
The New York Baby Show was brimming with activity. In two days, more than 4000 families will make their way through the booths full of gear and services aimed to help parents have an easier go of it!
This year Momtrends joined the action and co-hosted the Blogger Lounge. With New York Family, we created a pampering haven for bloggers to refuel in between working the floor. There were more than 100 brands there with booths—that's a lot of trends to report on. To help facilitate great editorial from our blogging friends, we provided free babysitting from The Nanny League. This way the kids were happy and the parent bloggers could have in-depth conversation at the show. All the parents raved about the quality caregivers in the lounge.
The Nanny League is an elite placement agency there to help you find the perfect sitter or nanny. It's a high-touch personal service that matches families with college educated, creative competent sitters in Los Angeles, San Francisco, NYC, NJ and Philadelphia.
We had a Mabels Labels station—giving all the bloggers personalized labels to keep their gear organized. Mabels is a beloved blogging brand—we all know these labels are a live save when it comes to keeping baby gear straight or school supplies. And they're perfect for summer camp too!
For new parents we can't stress it enough LABEL EVERYTHING! After going through all the effort to find the just-right sippy cup you want to make sure it comes home from the playdate, daycare or park. Get more details and order at mabelslabels.com
Bloggers checked out Net Nanny Products from ContentWatch provide Internet protection software, including parental controls and Internet filtering software. NetNanny helps parents safely guide their kids into the word of the Internet. Net Nanny can protect viewers from the following: pornography, cyber bullying, online predators and even Internet addiction. Find our more www.netnanny.com
When they weren't getting story ideas for their blogs, the ladies enjoyed fabulous pampering from GlamSquad. The professional stylists gave our blogging friends mini makeovers. There was a hair station, makeup touchups and manicures. GlamSquad is a service that provides stylists who come to your home (available in NYC, Miami and Los Angels—more cities coming soon!). Simply book an appointment on your phone or tablet with the GlamSquad app and you'll never have to visit a salon again. www.glamsquad.com
Thank to the 100 bloggers who participated in the Blogger Lounge! Here's the highlight reel:
As for the show itself, it was fabulous! With Canon as the presenting sponsor, the show was picture perfect and so many great products. I can see why this event is incredibly popular with families. I loved meeting Erica Hill and Sheinelle Jones from the Today Show (seen above in the ribbon cutting ceremony). I sat in on a great seminar from Holly or Baby Gizmo and of course I loved taking strollers for a spin on the test track.
5 Favorites from the Baby Show.
Thule Chariot Chinook: One of the cooler (and more expensive) items on the floor. Deigned in Sweden, this multi-functional child carrier can be ordered to fit one or two kids. The Chinook converts to bring the tots along on 5 different activities: walking, running, cycling, hiking, and cross-country skiing.
Bump Boxes. You know I love subscription boxes. Crowded stores make me jumpy—when I was pregnant the last things I wanted to do was go from store to store looking for the perfect things. Amen for online shopping. The Bump Box can be gifted to help expecting moms discover products to make pregnancy easer. Bumpboxes.com can be ordered in sample or full-size and provide healthy finds for mom and baby.
Green Sprouts from iPlay: snack jars and spoons make out of cornstarch. They are BPA free and lightweight.
Frank Fisher Baby Spyder Activity Play Set is non-toxic and made of natural birch. The cute and stimulating toy collapses flat for storage. Sometime you just don't need batteries. Kidsplayhome.com
Lucy Darling bump stickers & baby stickers. The little things matter. One of my "wish I'd done that" moments comes from not talking the monthly shots of my girls. These sweet reminders are just the thing to inspire you to take photos of either your bump or new baby.
We can't wait to be a part of next year's show!