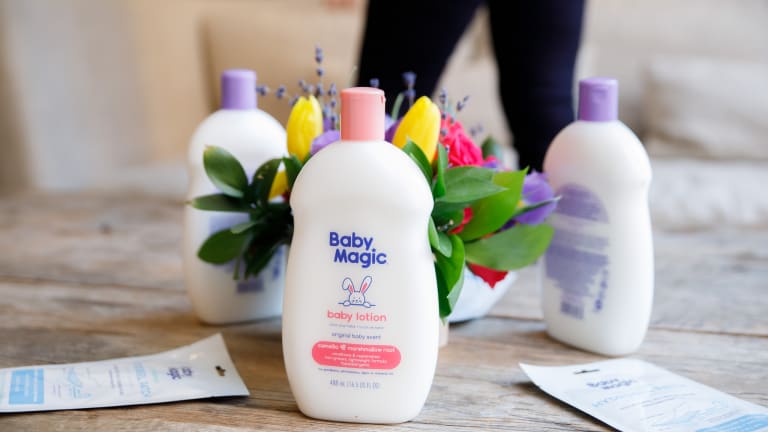 Making "Baby Magic" Happen #BabyMagicEvent
I wasn't sure I'd make it to the Momtrends "Blooms and Bunnies" #BabyMagicEvent last week. At almost 39 weeks pregnant, there was a significant chance Little One #3 would have different plans for that sunny Thursday morning, but, alas, here we are almost a whole week later and she's still sitting cozy in this big belly of mine. 
And, while I was (and still am!) ready to feel more like a human and less like a vessel for a wiggling worm, I was pretty excited I made it to the Baby Magic event after all! Because, this is an iconic brand I've known and loved for, well, it feels like forever. (Not to mention, there was a lavender-floral arranging station and actual baby bunnies to snuggle!)
My mom always kept a bright pink bottle of Baby Magic lotion on hand when I was a little--even beyond the baby stage--and that lovely smell brings me back to my childhood. 
And while that amazing Baby Magic fragrance hasn't changed in the last few decades, the product itself has come a long way. The company has made big strides and just relaunched a few standby classics plus some new products all without parabens, phthalates, dyes, sulfates, mineral oils, talc and lanolin. That means a worry-free Mama and a happy baby.
And now that I'm almost ready to welcome Bebe #3 (any minute now!), I'm excited that these must-haves from Baby Magic are better and safer than ever. 
Here's what's new and improved...
Original Baby Scent Cleansing Gel, Baby Lotion, and Creamy Baby Oil
Baby Magic's signature beloved "pink" scent product lineup is infused with skin-loving botanicals; and I like that the Original Baby Scent line is now gentler and more efficacious, while still keeping that same nostalgic fragrance.
Perfect for bathing and hydrating little ones with normal to dry skin, the Original Baby Scent line features camellia oil and marshmallow root to help moisturize and soothe dry skin while calming any inflammation. All products are hypoallergenic and dermatologist tested and free of sulfates, mineral oil, dyes, parabens, phthalates, talc and lanolin for a worry-free parent and delicious soft baby. 
Lavender Lullaby Calming Bath and Calming Lotion
Baby needs her sleep--and so does Mama. I'll take all the help I can get with two littles at home and a muffin on the way. These sweet-smelling lavender lullaby collection is ideal for night-time cleansing and moisturizing for babies with normal to dry skin. Aromatic scents help calm and relax baby for sweet dreams and a shorter bedtime routine.
Soothing ingredients like lavender, chamomile and aloe help Baby's skin feel hydrated and replenish skin's moisturize barrier, while lulling them to sleep with a calming scent. 
Sweet Buttercup Scent 2-in-1 Wash and Moisturizing Lotion
Ideal for cleansing and moisturizing skin that might be on the dry or sensitive side, the line is hypoallergenic, dermatologist tested and safe for Baby's new, precious skin. I can't wait to give my new addition her first at-home bath with this most gentle line. It's extra-soothing because of its comforting ingredients: calendula oil, coconut oil and shea butter. 
Multipurpose Hydrogel Patch
Babies often suffer from skin afflictions, and I'm really excited about this new and nifty essential. This first-of-its-kind Hydrogel Multi-Purpose Patch from Baby Magic is a multi-use customizable cooling patch that is designed to keep Baby's ailing skin feeling soothed, moisturized and calm. It can be used for skin that is dry, rough, sunburnt, feverish – you name it. The self-adhering patch provides instant cooling relief to keep skin woes at bay. Formulated with a blend of Vitamin B12, Camphor and Aloe the Hydrogel Patch packs a powerful punch, helping protect skin's natural moisture barrier against further discomfort and sealing in hydration.
3-in-1 Wipes
I love me a good multipurpose product--and bonus points if it's in wipe form. These innovative new wipes aren't just for Baby's bottom – they can be used on the face, hands and body. The 3-in-1 Wipes are formulated with 99% water and contain plant-based ingredients, offering a "gentle as water" feel. Plus they are made from ultra-soft cloth-like material that is infused with soothing aloe, chamomile and Vitamin E. 
So, hurry on up little lady.... I can't wait for you to come. Let's make some Baby Magic happen.
PIN IT!
This is a sponsored post. All opinions are our own.