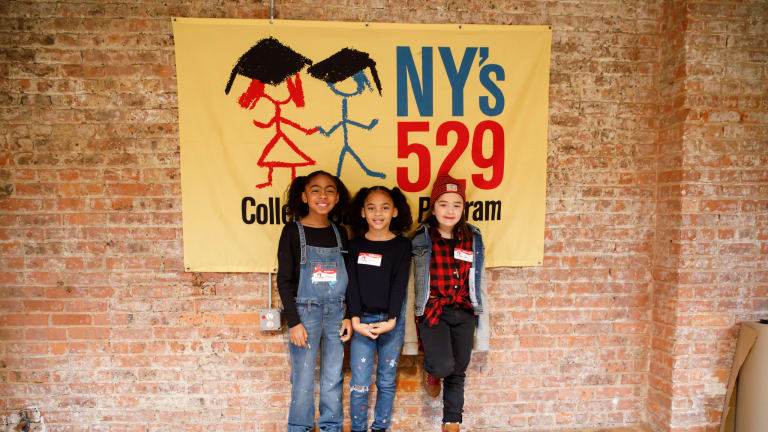 Learning and Playing at the #NY529Event
If I could go back in time and drop some knowledge on my 30-year-old new-mom self, I wouldn't give some sanctimonious advice about cherishing the sleep-deprived nights and being present in the moment. I'd refrain from romanticizing the more exhausting and tedious tasks of early child-rearing. No, I'd give myself some practical tips--like, "keep shoving that pacifier in his mouth until he get its it," and then I'd tell bright-eyed, bushy-tailed wrinkle-free Lauren to start a 529 account, like, stat.
Don't get me wrong. I'm not terribly behind the times. My firstborn is only seven years old--I don't have to worry about college tuition quite yet. But if I've learned one thing in the last seven years of momming, it's that time is a thief and parenthood is a tricky time warp. Major milestones just sneak up on you--one day you have an infant and--blink--the next you have second grader. (See, now I get sentimental.) 
I started 529 accounts for my son and first daughter (my aspiring zoo keeper or veterinarian!), when I first learned about the program three years ago--and I have to admit I was initially skeptical that it just seemed too good to be true. But now I consider myself a pro and I'm shouting it from the rooftops and telling alllllllll the new parents I meet at mommy-and-me class: "Want to do something special for your future super star? Your wannabe little doctor, teacher, chef, or entrepreneur? Open a NY 529 account and start saving now." It's never too late... but it's never too early!
Breaking Down the 529
Momtrends recently hosted our annual #NY529Event where financial experts educated our top mom-influencer friends about the benefits of this college savings plan. The little ones (and future artists! zoo-keepers! and dancers!) played and painted and pet animals and ate pizza at ArtFarm in NYC, while we, the parents, got the 411 on the 529. I'll share an inside look at our fun afternoon, but first let's get down to the nitty gritty of this savings plan--because thats what you really need to know, am I right?
What is the 529? The 529 is a state-sponsored  investment account you can use for higher-education savings. The big attraction of this plan is major tax savings. Your earnings grow federally tax-deferred, and qualified withdrawals are tax-free. Up to $10,000 is deductible annually from New York State taxable income for married couples filing jointly; single taxpayers can deduct up to $5,000 annually. 
Who starts the account? Just about anybody can open a 529 account—parents, grandparents, family, friends—as long as he or she is a U.S. citizen or a resident alien. As an account owner, you pick the investments (you can choose the level of risk-gain potential), assign a beneficiary, and determine how the money is used. But anyone can contribute to your 529 plan--so it's a great suggestion for birthdays, holidays, etc. in lieu of traditional toys. You can invite friends and family to contribute to your account by sharing a special Ugift code.
Who benefits from the account? The account owner chooses a beneficiary. It can be used for accredited two or four year colleges, public or private universities, post-graduate programs, some international programs, and even trade and vocational schools. And it's not just for tuition; it can also be used to pay for anything that's considered a qualified higher-education expense, like books; supplies; equipment; expenses for the purchase of certain computer equipment, software, and computer-related services; and certain room and board fees. A beneficiary can have more than one account. For example, parents can open an account for a child and grandparents can open an account for the same child. 
What if plans change? Let's say your child decides not to go to school, you can easily change the beneficiary to another child or even to yourself without penalty. There are no time limits to use a 529 account--so it can keep growing tax-deferred.
It's really a no-brainer. In NY, you only need $1 to open a plan, so why not do it on Day 1. Contribute regularly or contribute sporadically--just contribute and watch it grow, tax deferred.
So whether your child wants to work with animals--exotic or tame-- or become a lawyer, a CEO, or a philosopher, the NY 529 will help you both get there.
A look inside the #NY529Event:
Want more from Momtrends?
1. Give the Gift of Education With a 529 Plan
3. Preparing for Your Child's Future With #NY529
This is a sponsored post.