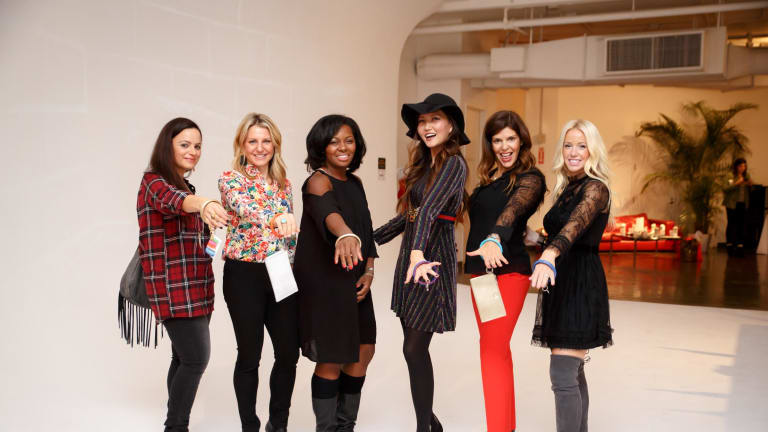 Kicking Off the Season at #MTHoliday
The holly-jolly season officially kicked off earlier this week at the annual Momtrends holiday bash. We brought together bloggers and brands for an exciting evening of browsing, networking, and celebrating in style at Splashlight Studios in NYC. 
NYC influencers mixed, mingled, and sipped on Noble Vines wines while enjoying immersive activations, great gifting stations, and more. It was a merry good time for all, and an awesome way to get into the festive frame of mind! 
Don't worry if you're not there just yet-- we're sharing some of our fabulous finds, merriest must-haves, and favorite moments from the 2017 #MTHoliday event, to get you ready to rock around the tree. So curl up on the couch, sip some hot chocolate (or vino!), and enjoy!
We love Pearhead's kitschy, cute, and super sweet gifties, crafts, and knickknacks. They have everything from ornament's for Baby's first Christmas to stocking stuffers for your pet to photo props and mama-sized mugs.
If you like the idea of holiday baking, but can't wrap your brain around finding the right recipe, shopping for ingredients, measuring, and cleaning, then Red Velvet NYC is for you! They send you everything you need, including the highest quality ingredients, to bake up something delicious--pre-measured and ready to go. Cute decorations and pretty packaging make these boxed goodies extra sweet.
Influencers got to pipe frosting and decorate their own peppermint cupcakes to eat or take home to their children. They each also snagged a super-cute gingerbread cookie kit. (Now that's a sweet little goody bag.)
This is a must-have stocking stuffer for moms on the move. Never lose your keys again with stylish accessories from O-Venture. These card cases, money clips, and key rings are equal parts fashionable and functional. And our bloggers each got to take one of the O-tree!
Look good. Do good. Feel good. That's what Cents of Style is all about: Being stylish, expressing yourself, feeling empowered, and inspiring others--and doing ll this on a budget to boot! With everything from graphic tees to dresses to shoes to blazers to winter accessories, this collection has something for all the mamas out there--including Nicole and Sherri, who were dressed, head to toe, in Cents of Style. Meanwhile, all our social friends got to take home a super yummy blanket scarf!
Tis the season to stay hydrated. Pure, convenient, and sustainable, Boxed Water Is Better. Drink up, Mama. You need plenty of H-2-Ho-Ho-Ho to get you through all those holiday parties.
As moms, we label everything with personalized Name Bubbles--coats, hats, scarves, and mittens. But we love that we can also use their customizable labels for gifting! 
We had our guests label these adorable hot chocolate jars to give to friends and family members.
Wine is a staple of the holiday season. It's good to have a few bottles on hand for entertaining or for host and hostess gifts. Heck, it's good to have one at the ready should you need to curl up by the fire with a glass after the kiddos' bedtime. Noble Vines has an amazing assortment of varietals for every palette. (The Cabernet is a best-selling fave.) Better yet, they all range from $9 to $11. Quality wine at an affordable price point--now that's something to celebrate.
Our bloggers enjoyed sips of Cab, Pinot Noir, rosé, and Sauvignon Blanc with assorted pairings.
What goes with wine? Cheese, of course. So we put out an impressive spread and challenged our bloggers to create their own cheese boards! They got to put their entertaining skills to the test, but, better yet, they were able to munch on some delicious cheeses and snacks.
Who doesn't need a well-fitting pair of jeans to complement their wardrobe? The styles from Riders by Lee look amazing, feel great, and cost WAY less than you'd ever imagine. With trendy tops, jackets, and other statement pieces, we're huge fans of this affordably fashion-forward line.
A few of our bloggers participated in a fabulous fashion show, and we challenged everyone to style an outfit, featuring Riders by Lee, for specific holiday occasions to show off the versatility of the line.
Every holiday party requires a fresh coat of polish. Luckily, our bloggers didn't need to prime and primp beforehand. Mani or Pedi NYC was on hand to give everyone a quick file and coat to kick things off.
We are huge fans of this come-to-you service. It's convenient, professional, and fun for offices, homes, and functions!
Take your decorations up a notch with AtMos FX. You can create digital decorations and turn any space or surface into a joyfully immersive experience. (We projected Santa "holograms" and a fireplace throughout our event!)
More Fun Holiday Finds and Giveaways
Of course, it wouldn't be a Momtrends event without a gifting table, swag bags, and giveaways. Our bloggers all went home with a beautiful print from Thimble Press, dry shampoo from Living Proof, a new Hasbro game, and more! 
Thanks to our brand partners and giveaway sponsors: Pearhead, Thimblepress, Living Proof, Red Velvet NYC, O-Venture, Jarlsberg Cheese, maniorpedi.com, Noble Vines, Atmos FX, Riders by Lee, Name Bubbles, Boxed Water, KidzBop, Cents of Style, and Second Chance Toys.
Gifts and goodies are great, but we like giving back to our community even more. This season, we partnered with Second Chance Toys, and asked all our attendees to bring a plastic toy for donation. It feels good to do good and pay it forward to those less fortunate. Plus, it keeps plastic out of landfills. Win-win!
Watch our Facebook Live from the event and join us on a virtual tour at #MTHoliday.
This is a sponsored post.