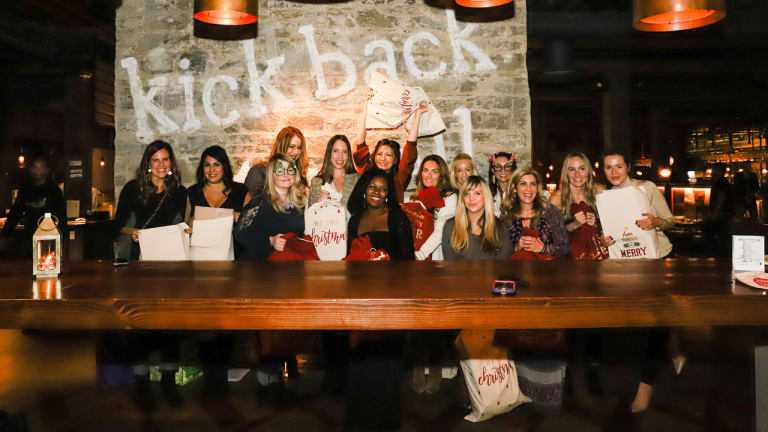 Publish date:
Kicking Off the Holiday Season in Style #MTHolidaySoiree
Mixing, Mingling, and Making Memories at Our Immersive Blogger Experience
Mixing, Mingling, and Making Memories at Our Immersive Blogger Experience
Ready or not... the holiday season is here!
Time to dig out those little black dresses from the back of the closet and get your party face on! With shindigs, soirees, and plans a plenty, it's officially the most wonderful time of the year... and the most hectic! 
We wanted to help our blogger friends kick off the holidays in style (with less stress), so we invited them to an elegant immersive evening with good food, great company, and amazing activations. 
But first we got them gorgeous with help from Glam & Go and GlossLab. Our influencers were able to indulge in a pre-party blowout at Glam & Go. With locations all throughout NYC, they're 30-minute signature service and 15-minute express option offer ultimate convenience for primping in a pinch-- mama doesn't have all the time in the world (especially when party season arrives!). 
Next, they could get their digits polished. painted, and prettified at their local GlossLab--because, a merry mani is essential! This is not your average on-the-go mani; their locations are super clean, efficient, and pampering.
Of course, hair and nails are only half the battle. A stunning ensemble is also necessary. That's why we dressed all our friends in the latest and greatest looks from cabi. Their assortment of statement blouse, blazers, and dresses will take you from the 9 to 5 and beyond; from the office to the office party to the holiday after hours. 
Bling is not optional when attending a fancy fete, and so we decked everyone's fingers, ears, and necks with fabulous jewelry from Marcia Moran.
And, presto, everyone was looking ready to party! 

Five Tips To For a Girl's First Leg Shave
Do you remember your first time shaving? Mine wasn't pretty. I snuck my dad's razor and shaved my legs dry. It wasn't pretty. Get your daughter ready for this rite of passage with the right tools and a quick education. We've got five tips to help you navigate your daughter's ...read more
Why You Should Add Wild Blueberries to Your Diet
Do your New Year's goals involve healthier eating? Adding more fruits and vegetables to your diet? Or even adding tasty new recipes to your repertoire? We've got five reasons for you to add wild blueberries to your diet. Our friends from the Wild Blueberry Association have ...read more
Why Moms are Loving This Blueberry Couscous Salad
It's blueberry picking time. And while most blueberry recipes revolve around baked goods, we've got something different to share. First, a few sentences singing the praises of this lovely fruit. Blueberries are high in antioxidants, improve memory function and reduce the effects ...read more
With an expansive dining space, outdoor terrace, and private dining room, Sugar Cane Raw Bar Grill is the perfect NYC spot for an intimate evening or posh private party. The cavernous DUMBO space is warm and inviting with epic mood lighting, and the globally-inspired small plates and fabulous drink options are out of this world. 
We set the scene for an elegant affair with gorgeous table-top decor by Tighemi, a Moroccan-artisan inspired home and accessories collection, and we created personalized place settings with our Mabel's Labels.
We showered out guests with goodies and gifts, and, of course, used Mabel's Labels for gift cards and festive labels.
Apparently, these blogging beauties all made the nice list this year--because, Santa stopped by to gift them Eo Creative Works sacks, treat bags, wine bags and stockings stuffed with fun finds. 
We had a merry and bright time celebrating the beginning of a beautiful season. Take another look inside the #MTHolidaySoiree and check out the incredible gifts, below!
This is a sponsored post.