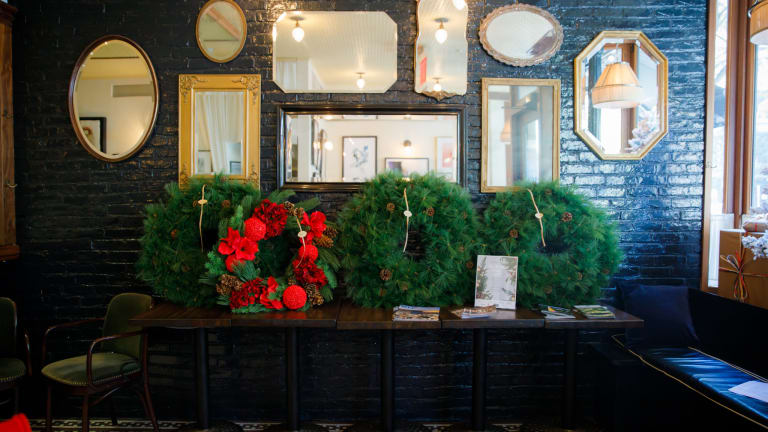 Celebrating Friendships and Spreading Joy #MTHoliday
Gathering mom influencers to highlight top trends and gifts of the season.
One of my favorite parts of the holiday season is celebrating friendships and spreading joy at our annual #MTHoliday event. I will make a confession: I hate to shop and I don't really love gifting. What fuels me is connecting women and having meaningful conversations. When it comes time to plan our annual holiday soiree we are REALLY picky about our partners. We only want to share the best stuff.
Like you, we only have so much time, space and money. At holiday time, it's easy to fall into the feeling that you need to do everything and buy all the gifts. 
It's simply not true. 
Spoil yourself with time with family and friends, and then carefully select gifts that will make life simpler, better and sweeter.  
What Momtrends Loves for the Holidays
Throwing parties. We love a good night out with the girls. The Leroy House is a unique American neighborhood restaurant and bar that resides on the ground floor of a beautiful town home in New York City's historic West Village. The food is updated American and the setting couldn't be cozier. The staff was wonderful to work with to customize our event. In fact, we will be hosting our holiday dinner here. Now that's a stamp of approval. 
Decking the Halls. I love getting the holiday decor up nice and early in my house. I like to have a full six weeks of Christmas. All of our blogging moms agree that decorating is one of the most fun parts of the season. 
This year, I'm filling my home with the beauty, magic, and wonder of the holiday season with a Fraser Hill Farm's artificial Christmas tree. We're doing a ton of travel and I don't think I can keep a "real" tree from shedding. I swooned when I saw my choices from Fraser Hill Farm. Each model is designed using high-quality materials built-to-last season after season.
And it's not just trees. They make a ton of irresistibly unique décor. Our bloggers loved the selection of wreaths. Now, off to deck those halls! Shop Fraser Hill Farm on Amazon
Making Healthy Toasts. Juicing is a trend that's here to last. It's a great way to get nutrients into the kids without a battle and it's a quick and easy way to boost Mom's health too. 
Our favorite juicer comes from CASO. They specialize in unique, innovative products that exceed expectations with German design and engineering. We all set about creating healthy and tasty drinks at our juice bar. It was easy with very little mess and almost zero waste. Get your Caso juicer on Amazon.
Something Sweet. I give myself permission to be inadequate at quite a few things--like baking. I don't want to be precise or specific. I like to cook. Baking....well, I'll leave that to the pros. Little Red Fox is a boutique patisserie specializing in one of kind wedding cakes and other sweets for all occasions.
They created these custom cookies for our table. Let me just say they were a HUGE hit. I highly encourage you to customize some treats for your next holiday party. Find out ore about Little Red Fox here.
What to Wear to a Holiday Party
Jewelry with Meaning. One perfect piece of jewelry is all you need to make an outfit. This season, savvy moms are heading to indy designers. Shopping small has never been cooler. That's why I'm thrilled to share Bijou Indochine with my gal pals. Influenced by Zen teachings, and inspired by empowered women, Bijou Indochine is the perfect gift for your BFF. 
I've found delicate, yet edgy pieces for my teen daughter as well as gorgeous grownup styles for girlfriends. Shop Bijou Indochine.com here.
Dressing up. I love getting dressed for a party. And Joules is a great place to start. I wore a fun fall dress to the party and felt like a million dollars (check out my outfit details in this post). As a special treat for all the bloggers, every lady got a fresh party outfit from Joules.
This British brand specializes in bright, whimsical clothing. You may know them for their sturdy and cute rain boots. They are perfect for fun-loving, adventurous families eager to romp and tromp in the great outdoors. Tom Joule launched the company in Great Britain in 1989 with a desire to "make the ordinary extraordinary." Joules continues to delight those seeking top-quality outdoor wear featuring original prints and bold splashes of color. It's a great place to outfit the whole family in style, but I must say I'm partial to the cool mom accessories. How chic is that felt hat! Shop Joules here.
Gifts Packed with Meaning
Getting a Glow. The older I get the less I want on my skin. Bronty Beauty makes supercharged active botanical facial mists. They are a simple way to get glowing. Not many of my friends have time for complicated skincare routines. This simple treat can be used day or night to give your skin a natural boost. 
Travel with Family. Nestled in the picturesque Pocono Mountains, Woodloch Pines is an award-winning, all-inclusive, family resort located just 2 hours from NYC. Woodloch believes together is the best place to be! What about giving your family the gift of travel and time together instead of more stuff.
Plan your Woodloch vacation here.
What makes us merry
I'm so thankful for our blogging partners and brands that believe in us. I'm going into the holiday season with a full heart ready to focus on the things that truly matter.
More Momtrends Events

This Celebrating Friendships and Spreading Joy #MTHoliday event was sponsored.