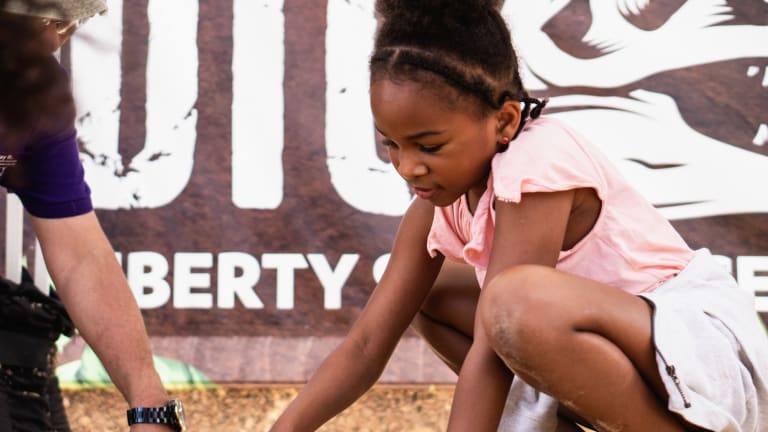 Summer Fun at Liberty Science Center #LSCSummer18
#lscsummer18
School's out for summer, but the learning never ends! We gathered some of our favorite influencers and their families to experience the Summer Fun exhibits at Liberty Science Center, our go-to for an exciting day adventure steeped in scientific learning and interactive exhibits. 
The Liberty Science Center is located right on the bank of the Hudson River (you can admire Lady Liberty from the property) and this massive space offers interactive exhibits, hands-on learning and experiences that allow children of all ages to immerse themselves in their own learning and embrace new concepts in a fun, memorable manner. If you want children to get excited about science, The Liberty Science Center should be on the top of your family bucket list. 
This summer the Liberty Science Center brought back two of its beloved exhibits, Block Party and Jack Horner's Dino Dig. Block Party invites kids to build their own dream playgrounds using large foam blocks to create the playground of their imagination. Jack Horner's Dino Dig gets the kids digging.  Let the kiddos uncover massive dinosaur bones by digging through 35 tons of sand (including 50 Cretaceous fossils!) in this interactive site named after the famed paleontologist. 
Two new and exciting exhibits hit Liberty Science Center and the kids are not going to want to miss out! Grossology and Arthur's World encourage STEM learning through play. 
Grossology uses sophisticated animatronics and imaginative exhibits to explain everything you ever wanted to know (but didn't know it!) about body odor, runny noses and other GROSS science subjects. Arthur's World offers sing alongs, spooky stories all set in scenes and surroundings from the classic, beloved storybook. 
The Liberty Science Center is home to the largest planetarium in the western hemisphere but that's not all. It offers 12 museum exhibition halls, houses live animal collections featuring 110 species, an aquarium, a 3D theatre, live simulcast surgeries, a tornado-force wind simulator, K-12 classrooms as well as teacher development programs. 
Spend the day at Liberty Science Center and your and your family can explore the past, present and future. Liberty Science Center offers an educational journey that allows children to play, explore and learn in an age-appropriate and accessible way that they won't soon forget. 
Liberty Science Center is open this summer from 9:00 am-5:30 pm. To find out more about Ticket Purchases, visit LSC.org.
This is a sponsored post. Tickets were gifted to visit the LSC.