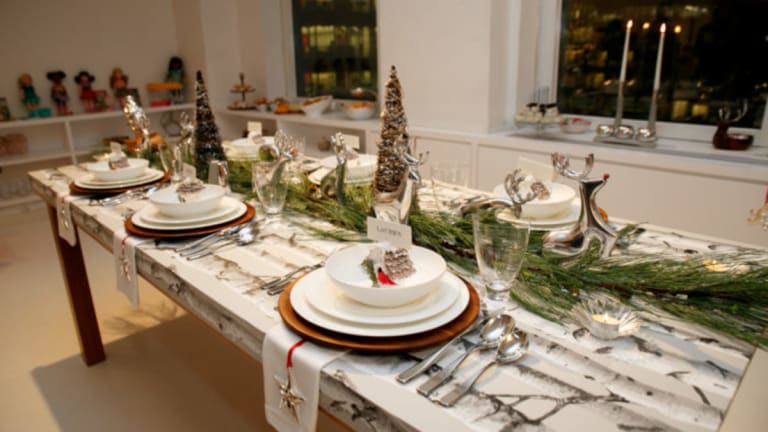 All Things Merry and Bright at the #MTHoliday Event
We assembled our favorite brands for an immersive showcase and holiday event, celebrating the latest and greatest must-haves.
I'm one of those "don't-even-talk-to-me-about-the-December-holidays-until-we-get-through-Thanksgiving" people. I love me my presents and my eggnog and my stocking stuffers and my tree-trimming trinkets, but I don't like skipping ahead and glossing over fall's grand finale. So, at home and in my personal life, I abide by a strict rule: no Santa talk until the Friday after Turkey Day.
Of course, in my career-world things are a wee bit different. As an editor, it's my job to be ahead of the curve and on top of the trends. So I start living and breathing Christmas, Hanukkah, and the holly-jolly holidays long before the bird is carved and the big balloons are inflated.
Naturally, our blogger friends are in the same boat. And that's why we were so excited to invite them to our annual #MTHoliday event. We assembled some of our favorite brands for an immersive showcase and interactive party, celebrating the latest and greatest holiday must-haves. From stunning Nambé entertaining essentials to gorgeous Avon makeup, we shared a few simple solutions to make this season of giving and getting easy and effortless.
We mixed, mingled, sipped, and shopped and made spirits bright by hosting a diaper drive to benefit the National Diaper Drive Network. We have a lot to be grateful for here at Momtrends this Thanksgiving and beyond—and, while I'm still personally wrapping my brain around how it's possible that the merry month is almost here, I'm always eager to share tips, tricks, and finds to make the holidays happier and more successful.
Pearhead
Quirky, cute, silly, and sweet gifts from Pearhead, like ornaments and photo props, helped us start the season in a super fun and interactive way.
Avery
With a plethora of labels, tags, and free printables, you can customize gifts in creative, fun, and festive ways this season.
American Girl
What little girl doesn't dream of building her own American Girl collection? With an array of toys, books, accessories, and dolls, there's something at every price point for every little lady on your list.
ivivva
Created by lululemon, ivivva has loads of fabulous styles and accessories for active girls from yoga tops and pants to pouches and accessories. Our mini models did a great job showing off all the versatile pieces. The brand new Moon Gem collection will be available online and in stores on Black Friday.
Mabel's Labels
With great personalized gifts and adorable labels, Mabel's Labels makes our "nice" list this season. We especially love the addition of personalized books for kids—such a great stocking stuffer or gift!
Arizona Tea
Made with hand-selected teas sourced from around the globe, these Good Brew batches from Arizona feature a fresh homemade taste. Plus, they're all-natural and made with real sugar (no high fructose corn syrup). It's a refreshing beverage you can feel good about giving your family.
Avon
Holding rank as the leading social-selling beauty company, Avon's products are better than ever. We treated our bloggers to mini makeovers—and we all learned about living the "boss life."
Treat yourself or a loved one to a fresh, hand-delivered floral arrangement this season. Their new holiday bouquets are playful, pretty, and professionally arranged by local florists.
ARMigami
This convertible wrap can be styled in over 15 ways, making it a chic winter accessory and fashionably functional gift. It can be worn as a scarf, a top, a wrap, a skirt, or even as a beach coverup (in case you're traveling somewhere exotic for the holidays).
Bangle Stacker
Bangles and bracelets are very hot this year. This adorable stacker helps you keep all your sparkly, shiny jewelry in one convenient place.
LaCroix
In addition to wine and iced tea, bloggers sipped on deliciously fun La Croix sparkling waters. They're 100% natural, with no added sodium, caffeine, calories or artificial sweeteners. (They're also perfect for mixing up holiday mocktails and cocktails!)
Nambé
Nambé's unique signature designs and modern aesthetic are easily recognizable and entirely desirable. Functional and stylish, these holiday pieces make a chic, but still approachable statement. We set our event table with some festive pieces from the collection, creating a comfortable and cozy, but still elegant ambiance.
Nambé has also launched a fabulous jewelry line, available at Macy's.
Noble Vines
What's a holiday party without holiday spirits? Noblel Vines wine comes from Manteca, CA—and it's the perfect pour to kick off any celebratory soiree.
LeSportSac
These bags hold everything and weighs nothing. (Santa ought to replace his sack with one of these versatile carryalls!)
Smash Mallow
Santa: This is a must have for all those stockings you have to stuff. These premium snackable marshmallows are great alone, in hot chocolate, or added to desserts.
The Zen of Slow Cooking
Slow down this hectic season and save yourself some time and energy by cooking with a slow cooker and some incredible spices, ingredients, and recipes from Zen of Slow Cooking. These blends feature premium blends crafted exclusively for the slow cooker to bring a little zen (and lot of flavor!) into your kitchen.
Gift Giving
We highlighted some more of our favorite picks from these brands and others on our "gift-giving" table. (How sweet is this "cookies for Santa" set?!?) The Snowtime DVD is a great addition to a little kid's stocking... and it's even better for the first snow day of the season! That's also just around the corner. Yep, the holidays must officially be here!
Speaking of gifts, bloggers left with a bag full of goodies for themselves, their family, and friends. Check out this loot. It will definitely give you some ideas.
Sponsors:
American Girl
Arizona
ARMigami
Avery
Avon
Bangle Stacker
ivivva
LaCroix
LeSportSac
Mabel's Labels
Nambé
Noble Vines
Pearhead
Smashmallow
Teleflora
The Zen of Slow Cooking
This is a sponsored post.