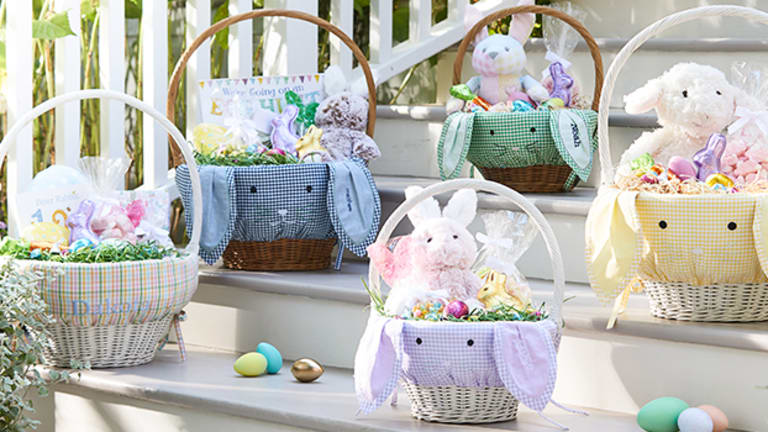 Easter Decor from Pottery Barn Kids
With Easter coming soon, it's time to get inspired to decorate with some fun home trimmings.
Kids love seasonal decor. Be it Christmas, Halloween or Easter, they love embracing the symbols and sights of the season. With Easter just a week away, we hope (or is it hop?) to inspire you to get into the spirit with some fun home trimmings. I decided to check out what Easter Decor from Pottery Barn Kids was all about.
We've got plenty more Easter ideas. Check out this Easter Brunch favorites.
Pottery Barn Kids sent us the adorable Peter Rabbit yard sign (sale $19.99). We found a home for him close to the daffodils. We see the sign every time we pull up to the front door--an adorable reminder of the spring holiday.
Inside, we've outfitted our Easter Tree Centerpiece (sale $34.99) with handmade paper eggs. Our rainy day art project can be replicated every year, or you can opt to hang plastic or--gasp--breakable ceramics or hollowed out eggs on this tree.
Almost all the Easter collection is on sale. Head into a PBKids store or click away. Remember, it's never too late to shop! You'll be using these seasonal items year after year.
Get inspired from PBKids to welcome spring and Easter with a colorful prop or two. If you need more holiday inspiration, head to the PBKids site. There are tips for creating a party, craft ideas, and recipes. Head here for all the Easter fun!
MORE EASTER IDEAS FROM MOMTRENDS
PIN IT!
Use Pinterest to save your favorite entertaining ideas. Be sure to follow our Easter Pinterest board here.
Momtrends was not paid for this post.