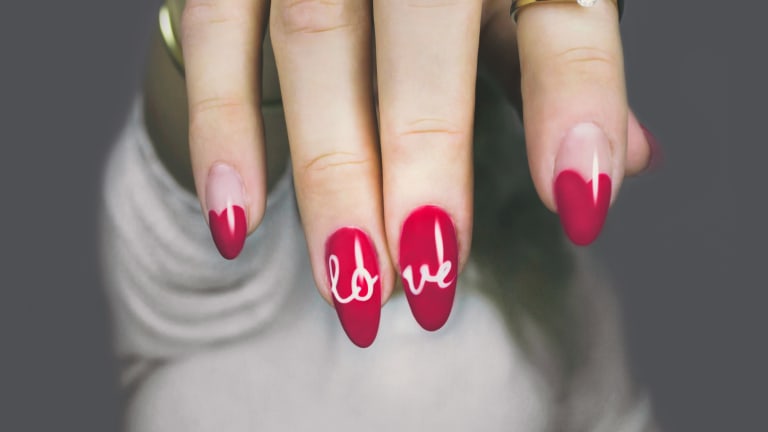 We Heart Nail Art: Inspired V-Day Manicures
I've rounded up a little artistic inspiration à la Pinterest. These Valentine's Day manicures are creative, beautiful, flirty, and fun.
It should be noted that this article was originally going to be a tutorial of sorts—perhaps a pared down "how-to" or maybe even a basic guide to nail art: "DIY V-Day Manicures Made Easy!"
Celebrating Valentine's Day in Style
We are pretty excited about Valentine's Day. We've shared some fun hairstyles and of course classroom Valentine's ideas, now let's talk about something for mom -- a fun manicure for Valentine's Day.
Alas, after raiding my nail-polish collection and making several messy attempts, I came to the following conclusion: I will never, ever be a "nail artist." My hand just isn't steady enough and I don't have the technique—or the talent. Or the patience. Or the free time. (No, I most definitely don't have the free time.)
Truth be told: I don't know what I was thinking. I can barely stay in the lines when coloring with crayons—so painting tiny hearts with a mini brush on a super-small canvas sounds like a slight stretch. I guess I'll stick with simple manicures and GIY (glue-it-yourself) decals for now, and leave the delicate design work to the pros. But, you know, A+ for effort, right?
Pinterest Inspired Valentine's Manicures
In lieu of a fancy DIY lesson with intricate instructions, I've rounded up a little artistic inspiration à la Pinterest. These Valentine's Day manicures are creative, beautiful, flirty, and fun. They're also probably somewhat impossible to nail (get it?). But, hopefully, you'll have a little more luck and a whole lot more skill than I.
(From top-left to right)
Cupid Manicure - Pinterest
The Ironic Iconic V-Day Candy Manicure – She Knows
LOVE Scrabble Manicure – One Nail to Rule Them All
Heart-Tip French Manicure – Cosmopolitan
Printed Paper-Heart Nails – Harpers Bazaar
Red Hearts on Pink Nails – Gurl.com
Washi Tape Glitter Heart Nails – The Beauty Department
Pastel Sweetheart Manicure – Californails
XOXO Studded Nails – Seventeen
Love (in Morse Code) Nails – The Beauty Department
Simply in Love Manicure – Being Geneieve
Tri-Color Heart Manicure - PopSugar
You didn't think I was done yet, did you? To be fair, I was... But then I found, like, a million more I loved.
(From top-left to right)
Love & Amour Manicure – Her Campus
Chocolate-Box Manicure – BuzzFeed
Tri-Color Bow Nails – Lana Red Studio
Red Lip Nails – Avon Insider
Opposites Attract Manicure – Total Beauty
Graphic Nail Art – PopSugar
Hearts and Bows Manicure – Small Good Things
Love Letter Manicure – Ink 361
French Macaron Nails – SheFinds
More Manicure Ideas for Valentine's 
P.S. While I may have thrown in the nail-art towel, I haven't give up on a pretty Valentine's Week manicure. After a solid hour of pink-tacular fails, I had to change things up a bit, so I went with this simple, but gorgeous go-to: Essie Sand Tropez with Summit of Style Lux Effects layered heavily on top. It may not be the most obvious choice for V-Day, but it's still ultra girlie and super glamorous—and, for me, that's all that counts. Incidentally, it would also look great with a pretty pink base—like, Essie Fiji.
MORE NAIL TRENDS FROM MOMTRENDS
PIN IT!
Use pinterest to save your favorite beauty tips. Be sure to follow our Nails and Manicures board here.