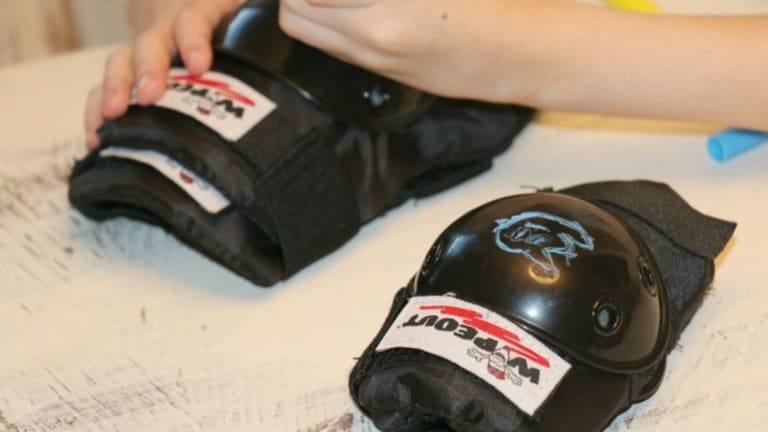 Making Safety Fun: Cool Protect Gear from Wipeout
One thing I particularly love about summer is how many hours of daylight there are. That means countless opportunities for outside fun! Being that we don't have to stick to the same strict bedtime schedule in the summer months, my family has a blast sneaking in some extra play time after dinner. And often that includes bikes and/or our scooters. My kids can't get enough of their wheels, but they know that they absolutely must wear a helmet whenever they ride them. That is one of mama's rule that can never be broken! Luckily they don't fight their gear and, in fact, quite enjoy donning protective wear especially now that they've helped create them. 
You see with Wipeout Dry Erase Protective Gear kiddos can decorate their helmets and pads with whatever their hearts desire! And the best part is they can wipe off the designs on said safety gear and start all over again if they want to!
Frankly, I can't get enough of the DIY drawing element because as much as we focus on the all important STEM subjects in our house, fostering my children's creativity is incredibly important to me as a parent as well. Plus, anything arts and crafts related is a total parental sanity saver around here. Bwah! Both my kids are quite artistic by nature and if I set them to work with anything related to drawing, I can buy myself many moments of silence. Hey, us harried mamas gotta do what we gotta do. Haha!

Now in a Wipeout Dry Erase helmet package you'll find 5 Dry Erase markers in assorted neon colors and 8 stencil designs. You get that all for $29.99. Plus, they're certified for safety protection for roller sports like biking, skateboarding, roller-skating and even scooters. Thanks to Wipeout, kids ages 3 to 14 can expect FUN to be a part of their safety precautions! I mean just look at all the color options. I'm talking Black, Teal, Neon Pink, Zest (a neon yellow-green) and MORE! And in the Wipeout Dry Erase Protective 3-Pack you get kneepads, wrist guards, elbow pads, and 2 markers for $24.99. Your color choices in the pads are Black, Teal, Neon Pink and Zest. I wish they came in my size, but I digress...You can find Wipeout Protective Gear at Toys R Us, Target, Academy, Scheel's, Amazon and other leading retailers.
So, if you too want to encourage your kids to be more active and have fun with safety, while, at the same time, tap into their inner creativity, you're going to want try out Wipeout Dry Erase Protective Gear for yourself. Wipeout even has a series of step by step how to photos videos, as well as design printouts on their site to make your family's crafty ventures even easier. And on that note, I have some exciting news...You can enter to win some Wipeout Dry Erase Protective Gear for your kiddos below! One lucky winner will walk away with their very own helmet and accessory set. The color and size will be the winner's choice of course!
Connect with Wipeout on the website, Twitter, Facebook and Instagram.
This post is part of a sponsored campaign for Wipeout Dry Erase Productive Gear. I received compensation for my participation, but my review and opinions are my own.