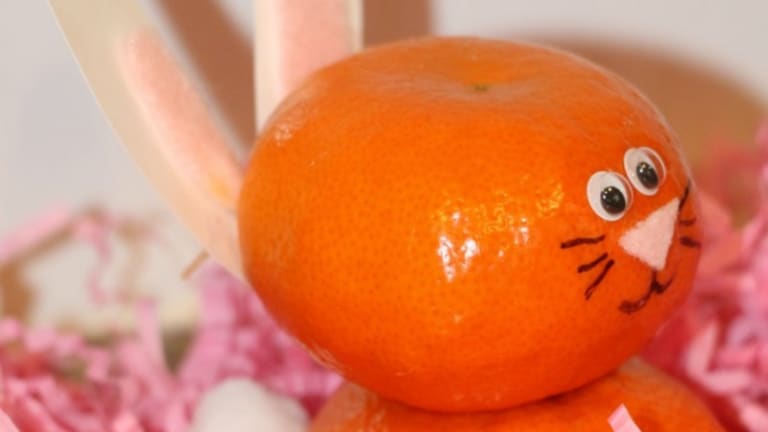 Publish date:
Easter Bunny Crafts and Snacks for Kids
We featured some super cute and easy ways to use mandarins to make Easter bunny crafts. Your kids will love creating little critters with the
We featured some super cute and easy ways to use mandarins to make Easter bunny crafts. Your kids will love creating little critters with the
Easter is one of my favorite holidays to celebrate. It's a lovely holiday filled with such promise. And, as with any holiday, in our family celebrating means decorating, making tasty treats and crafting to our heart's content. My daughter was born with an artistic soul and, while I may have to work a little harder at my artistic efforts, I'm happy to do so for my creative baby girl.
That means I'm always on the hunt for new ways to make each and every holiday season special for my family. After making some cookies, that I'll be sharing soon, with Wonderful Halos Mandarins, I was bitten by the crafting bug a bit and decided to make some cute little bunnies with them too. In fact, we even have more Easter bunny crafts for kids with mandarins to share with you. After you're done here, make sure you check out some other ways you can create critters with mandarins HERE!
Easy Easter Bunny Crafts
So, let's talk about how easy it is to create these Easter bunny crafts. First you need a few supplies...
Supplies:
Wonderful Halos Mandarins
white card stock
pink felt
googly eyes
black Sharpie
white poms
Directions:
1. Cut out bunny ears from the white card stock and ovals for the inside of the bunny ears, plus a tiny triangle from the pink felt for the bunny's nose. Then glue the pink felt ovals to the bunny ears.

Five Tips To For a Girl's First Leg Shave
Do you remember your first time shaving? Mine wasn't pretty. I snuck my dad's razor and shaved my legs dry. It wasn't pretty. Get your daughter ready for this rite of passage with the right tools and a quick education. We've got five tips to help you navigate your daughter's ...read more
Why You Should Add Wild Blueberries to Your Diet
Do your New Year's goals involve healthier eating? Adding more fruits and vegetables to your diet? Or even adding tasty new recipes to your repertoire? We've got five reasons for you to add wild blueberries to your diet. Our friends from the Wild Blueberry Association have ...read more
Why Moms are Loving This Blueberry Couscous Salad
It's blueberry picking time. And while most blueberry recipes revolve around baked goods, we've got something different to share. First, a few sentences singing the praises of this lovely fruit. Blueberries are high in antioxidants, improve memory function and reduce the effects ...read more
2. Attach two Wonderful Halos Mandarins to one another with a toothpick.
3. Then glue on the googly eyes and felt nose. Next, draw whiskers and a mouth with the Sharpie.
4. Finally, all you have to do is use half of a toothpick to attach the bunny ears and glue the white pom on for the tail.
And there you have it. A super cute bunny that any kiddo would love to create! So, do you have any Easter bunny crafts on your must make list? Inquiring minds want to know!
MORE EASTER IDEAS FROM MOMTRENDS
PIN IT!
Use Pinterest to save your favorite entertaining ideas. Be sure to follow our Easter Pinterest board here.