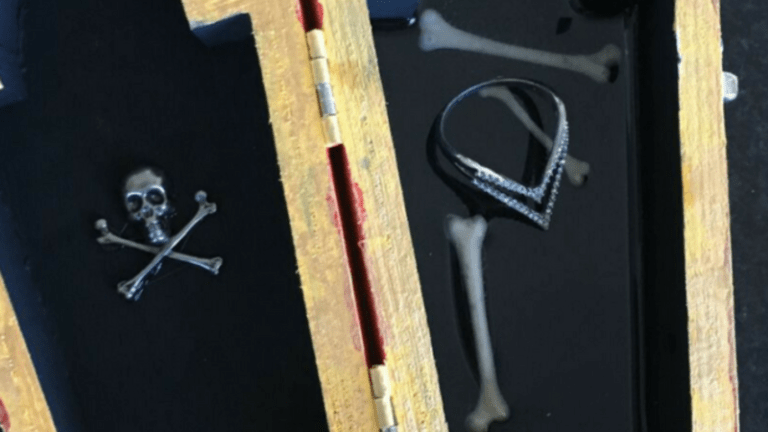 DIY Halloween Treat Boxes
Find out how to create a creepy coffin display box for Halloween.
I love crafting Halloween decorations, especially ones that are useful. While picking out supplies, I spotted these tiny wooden coffins which were oddly adorable. I've been playing with resin lately and knew that I wanted to create a creepy display box. The coffin was the perfect fit. Ha! Store trinkets, treats, or even tricks in this fun and festive box.
Related: Our favorite wine and Halloween candy pairings
DIY Halloween Treat Boxes Materials
Here's what you need:
DIY Halloween Treat Box Instructions
I painted the wood with regular craft paint and used a paper towel to sponge on gold paint over top of it. You can use a brush to give it a flecked appearance as well.
Next I mixed the resin. It comes in a ready-to-mix package so all you have to do is expunge the amount you need. Save the rest for another project. Mix it up until it reaches a milky hue. There will be some bubbles in it but don't worry, they flatten out during the drying process.
Place your creepy details in the pattern of your choosing and pour the resin over top. Use a toothpick to reformat your details if the resin moves them. Then put your masterpiece somewhere safe where it can't be bumped or moved. Let it dry for 24 hours. Check to see your details are completely covered. Once it's fully dried, add treasures to the box. Give as a gift or keep for display.
If you opt to make the tray, make sure you leave your wood on a flat surface on some newspaper or scrap cardboard. In the event of a resin leak, you definitely don't want dried resin on your floors or counters. It's also a good idea for kids to wear gloves when mixing or handling resin. Watch the video for the full tutorial!
WANT MORE FROM MOMTRENDS?
PIN IT!
Be sure to follow Momtrends on Pinterest and for more spooky inspiration follow our Halloween and Thanksgiving Boards here. 
This is not a Sponsored post