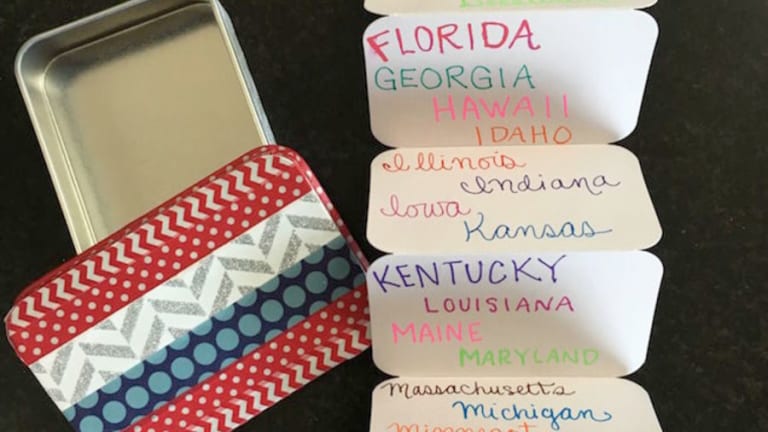 Craft Corner: How to Learn the 50 States
Learn your geography facts with this fun craft project to teach the 50 states.
We know: summer time is meant for playing outside, relaxing, and regrouping for the fall. But that shouldn't mean your brain should totally shut off. I asked 10 of my friends if they could tell me all 50 states and only 2 of them could do it! And they are adults! I firmly believe that everyone should know this detail about our country. That's where this nifty craft project comes in. It's perfect for a 4th of July party!
Related: Kid craft DIY fireworks shirt
Craft Corner: How to Learn the 50 States
It's something I learned and memorized when I was in second grade. I did have some help though-- ever heard the Fifty Nifty United States song? Once this ear worm gets in your head, it'll be there for life. It's the perfect song to sing while you're making this craft.
Craft Corner Materials
Here's what you need:
A tin with cards
Washi tape
Pens
Stickers
How to Learn the 50 States Instructions
Double check and make sure you have all the states in alphabetical order. 
Then write them out with fun pens in different colors. I also added facts about why our flag has 50 stars and 13 stripes. 
Decorate your tin and the front of your cards with patriotic washi tape.
Take this travel tin on the road and encourage your kids to learn the states. They can quiz each other and turn it into a fun game. This craft couldn't be easier!
Check out the tutorial for a snippet of the song and to see how I made my state cards.
MORE 4TH OF JULY IDEAS FROM MOMTRENDS
PIN IT!
Use Pinterest to save your favorite ideas for summer fun. Be sure to follow our 4th-of-July board for more inspiration.
This is not a sponsored post.