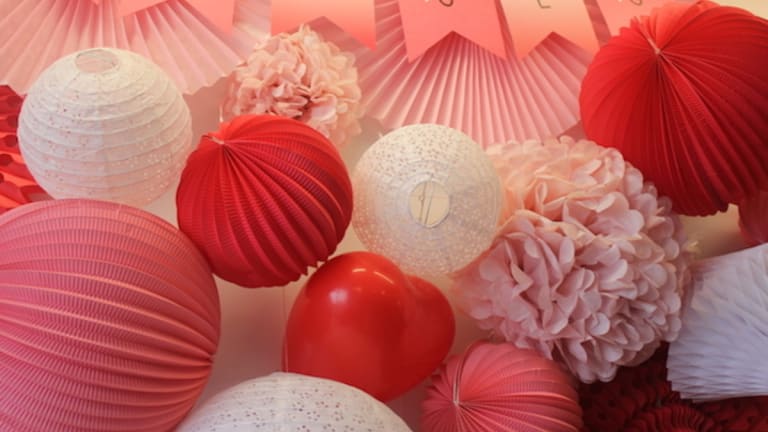 It's A Party: Valentine's Day with Minted
We created two separate "scenes" to give you options for how to style your own soiree for Valentine's Day.
Happy Valentine's Day from Momtrends! This year we have teamed up with Minted and Under the Paper Lantern to bring you gorgeous party ideas for the holiday of love. We created two separate "scenes" to give you options for how to style your own soiree.
Using Paper Laterns for Valentine's Day
First, we hung a bunch of paper lanterns and pompoms from Under the Paper Lantern. Paper balls are so trendy and look oh so pretty. Using a variety of colors and sizes, they were our backdrop for our first scene.
Valentine's Day Decorating with Minted
When setting the table, instead of using a table cloth or runner, we opted for table confetti in the ombre pattern. It's playful and really compliments the lanterns. We used a cake stand to showcase our drink options and attached this super sweet "sips" sign with double sided tape. You can personalize these signs to say anything you'd like, but we kept it simple with the words provided. To give your straws some oomph, attach flag stickers around the straw. We used the extra stickers to add the same flair to our cups.
We did the same thing for our "treats" table. We used two different sizes of cake plates to ensure our table had dimension. It also helps when there's a bunch of people grabbing different items so that nothing falls off or gets spilled. They'd be perfect to hold some of these Valentine's sweets. 
Apothecary jars are soooo gorgeous and we filled this giant one with lollipops covered in stickers. (Seriously, can we put apothecary jars everywhere from now on?)
If you're going to hang banners, staggering them in different heights and locations gives your room more depth. This Hugs and Kisses banner hung from the ceiling and the wall and gave our party area defined space. Get more ideas for printables here.
You can purchase all of the items from Minted in one big bundle, or choose things a la carte. We can't wait to see what you've done with your Valentine's Day celebrations. If you host a party, use hashtag #MomtrendsVDAY so we can see what you've created! Take a look at our video to get a behind the scenes look at how we styled it. Happy Valentine's Day!

Valentine's Day with Minted Decorating Ideas
MORE WAYS TO MAKE IT A HAPPY VALENTINE'S DAY!
PIN IT!
Be sure to follow our Valentines board and pin your favorite ideas.
Momtrends was not paid for this post. We did receive samples for review.