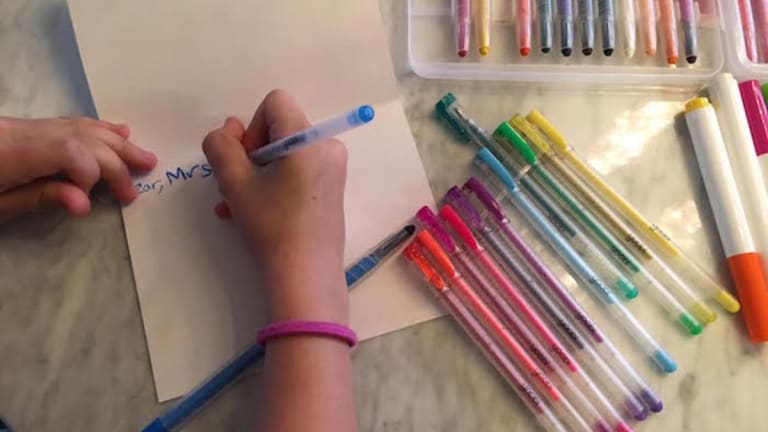 Our teachers are some of the most important influencers in our children's lives. They guide them, shape them, and put up with them. Haha! The least we can do is say, "thanks," for all they do! And what better day to do that than on Teacher Appreciation Day?
Related: Homeschool project reviving letter writing
National Teacher Appreciation Day 
Getting your kids to write thank-yous can be a bit challenging, but not if you have some fun supplies to get them inspired. Yoobi is a brand we rely on to not only provide beautiful materials, but also to give back to the community. For every Yoobi item purchased, a Yoobi item will be donated to a classroom in need, right here in the U.S.! It's that simple.
We encouraged our kiddos to take some time and really think about what they've learned so far this year. Then we asked them to think about the reasons they believe their teachers are special. After giving them some pretty gel pens, it didn't take long for them to jot down lots of other things they wanted to thank their teachers for.
Your Teacher Appreciation Day project doesn't have to be long or even fancy. A simple note to your child's teacher FROM your child will really mean a lot. Use this as an opportunity to start a conversation with your kids about gratitude, giving back, and simply being a kind person.
And just in case you're running short on time, you can always go the printables route. Greetings island has a slew of darling cards that you and your kids can create and print for FREE! It's the thought that counts...and your kid's teachers will always appreciate the sentiment!
MORE LOVE FOR TEACHERS FROM MOMTRENDS
PIN IT!
Use Pinterest to save your favorite ideas. Be sure to follow Momtrends here. 
Momtrends was not paid for this post. We received samples.