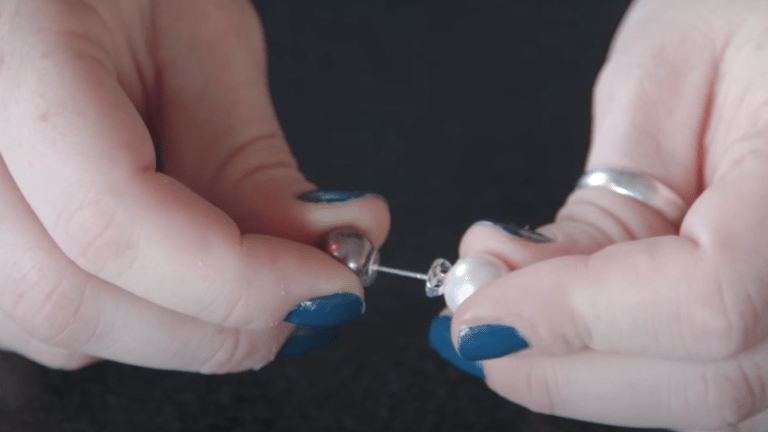 Publish date:
Craft Corner: Make Double Sided Earrings
DIY video make double sided earrings in less than an hour with this trendy and fun craft project.
DIY video make double sided earrings in less than an hour with this trendy and fun craft project.
You've seen them everywhere, and even Nicole is a huge fan. You know what I'm talking about: the double sided earring. This trend is going strong and is one of my personal favorites. When I find something I love, I try to figure out how I can make it myself. These pearl earrings are no different. 
Related: Make your own mermaid necklace
Make Double Sided Earrings
This trend is a fun one to jump on. Earring have not had this much excitement since the double-piercing trend started. Since it's always more fun to create the perfect accessories than to buy them, we tinkered and played until we found a system that worked. 
Double Sided Earring Supply List
Here's what you need for this DIY. One quick trip to the craft store and you'll be ready to start crafting. You likely have many of these at home and I love repurposing older accessories to make new creations. Don't be afraid to pull apart necklaces and earrings you have on hand but don't wear anymore.
Pearls
Glue (I love E6000)
Earring backs and studs
Pliers (Note: You don't have to have pliers--- if you want them, dollar stores usually have the mini versions)

Fun Ways to Discover Venice Italy with Your Family
Greetings from Italy wear the gelato is rich, the clothes divine and the scenery is inspiring. Now that I've been to this fine city in the north of Italy, twice, I've amassed a list of favorites to share. These are some fun ways to discover Venice, Italy with your family. ...read more
Here's What No One Tells You About Olive Oil
produce is at its absolute PEAK right now. It's the time to prepare fresh veggies and fruit with ease and simplicity. When it comes to cooking, the farmer's market is my muse. As I prepare some of my summer harvest favorites, I'm sharing a little secret, what you put ON the ...read more
Double Sided Earring Video Instructions
Watch our tutorial to get the step-by-step instructions. This is a beginner-oriented craft. Don't be intimidated by the need for plier. You've got this!
If you love this tutorial, you're going to want to check out the Bijou Kits. They are the perfect starter kit for budding jewelers.
MORE CRAFTY IDEAS FROM MOMTRENDS
PIN IT!
Need more ideas on what to do with the kids? Be sure to follow our Activities to Do with the Kids board on Pinterest here.
Momtrends was not paid for this post.