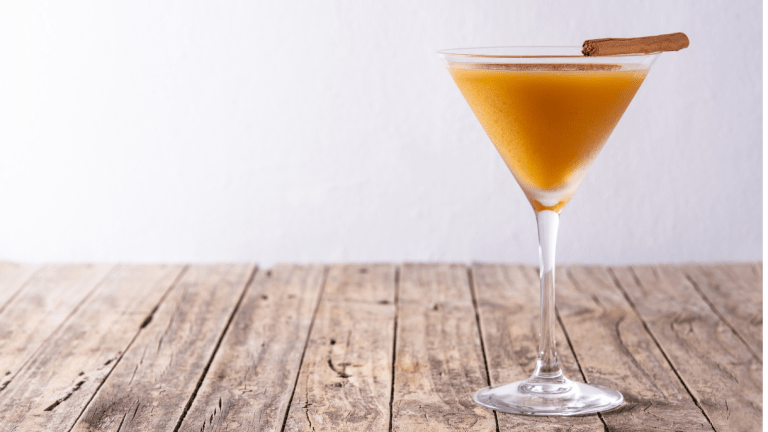 Easy Pumpkin Spice Cocktail
Feeling inspired by the fall season, I grabbed some ingredients and concocted this spicy, autumnal cocktail.
Everyone I know goes ga-ga over PSL season. While I enjoy one every now and then, I prefer beverages that have a little bit more spice than sweet. I stumbled across Captain Morgan Jack-o-Blast and was intrigued. Feeling inspired, I grabbed some ingredients and concocted this spicy, autumnal cocktail.
Related: Pumpkin pancake recipe
Easy Pumpkin Spice Cocktail Ingredients
Captain Morgan Jack-o-Blast Pumpkin Spice Rum
Martinelli's Sparkling Apple Cider or Apple Cider of your choice
Ginger Beer
Pomegranate
*If you ever make cocktails at home, you need one of these square ice cube trays. They are essential to building the perfect mixed drink.
Part of the joy of mixing drinks is the presentation. When you have a beautiful glass, your drink becomes a piece of art and you feel pleasure in the overall experience. The Water Gallery glasses are handcrafted and make lovely gifts. I love this one with the whales! There are a bunch of beautiful designs to choose from and a variety of glasses and bottles.
Easy Pumpkin Spice Cocktail Directions
Start by adding pomegranate to the bottom of your glass. P
lace a square or sphere ice cube right on top. The ice will press the pomegranate slightly to release some of the juice.
Continue adding ingredients on top of the ice: 1.5 oz of the Jack-o-Blast, 1 oz of sparkling apple cider or apple cider
Fill the remainder of the glass with ginger beer. 
You'll get a little spice from the ginger beer, a little kick from the Jack-o-Blast. It will all balance out with the sweetness of the apple cider and you'll be sipping a fresh, autumnal, pumpkin-y cocktail. Yum!
MORE FALL RECIPES AND DRINKS FROM MOMTRENDS
PIN IT!
Be sure to follow Momtrends on Pinterest and for more spooky inspiration follow our Halloween and Thanksgiving Boards here. 
We were not paid for this post. It may contain affiliate links. By clicking and shopping, you help support Momtrends and allow us to keep reporting on trends.
For even more Momtrends, follow us on Facebook, Twitter,Pinterest and Instagram.