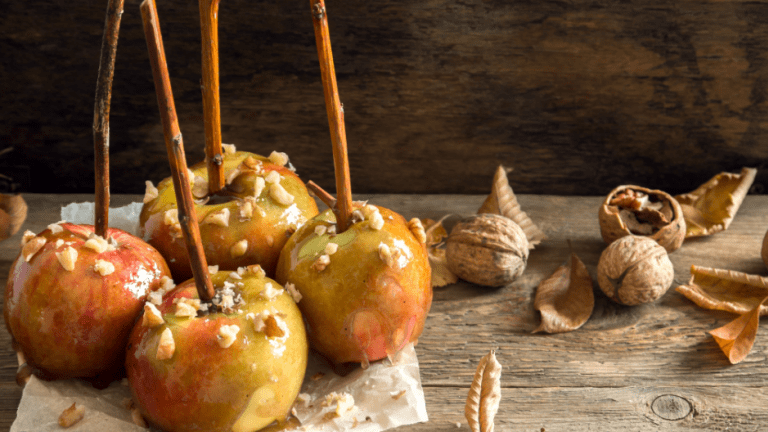 If there is a time of year that I consider "my season," it is surely fall! I love everything about autumn from the crisp air to the brilliant colors of the foliage. The mountain landscape by far is my favorite. Whether I'm in the Rockies or the Appalachians, the mountains are home. Is there really anything better than sipping coffee on a chilly morning looking at a beautiful and peaceful landscape? Such a zen way to start your day! I just feel like I cannot fail when I begin my days this way!
Related: Hard apple cider recipe
Boozy Salted Caramel Apple Cocktail
This Boozy Caramel Apple Cocktail elicits all the same good feelings. Who doesn't like caramel apples anyway? And apple cider? Perfection! It's warming, thanks to the apple cider and Remy Martin, but so flavorful too. With just the right amount of sweetness. The perfect bonfire cocktail. Or, for a cozy night in.
I know, I know, Remy Martin? That's what you are thinking, right? I think of an older gentleman with a cigar when I hear Remy Martin too. But, seriously, this cognac pairs perfectly with the other ingredients in this salted caramel apple cocktail. So, grab your smoking jackets ladies and sip this cocktail proudly!

Five Tips for the Perfect Pumpkin Patch Visit
It's that time of the year again...pumpkin patch time! While I love a nice Pumpkin Spice Latte as much as the next fall lovin' girl...for me, the season is all about spending time with my family...and hopefully that time is spent outside as much as possible. If you're headed out ...read more
Perfect for Fall Pumpkin Spice Dirt Bomb Recipe
Get your pumpkin spice fix with this tasty dirt bomb recipe. Unlike fried donuts, this recipe is a little lighter and, since no hot oil is involved, a lot less messy. These dirt bombs, or baked donuts, are irresistible cakey muffins that are spiked with nutmeg and ginger, and ...read more
Save Money at a Ski Swap
Are the slopes in your future? If you want to save money on ski gear, consider a ski swap. A swap is a great way to buy and sell used equipment. Most swaps consist of a variety of gear, from brand new to used skis and snowboards to skis; from poles to boots to bindings and ...read more
Boozy Salted Caramel Apple Cocktail Ingredients
3/4 ounce of Remy Martin
1-ounce Butterscotch Schnapps
4 ounces Apple Cider
1 tsp caramel
Whipped Cream for garnish
Coarse salt for garnish
Cinnamon stick for garnish
Boozy Salted Caramel Apple Cocktail Instructions
In a stemless glass (or mug), add the warm (not hot) cider. 
To that, add the Remy Martin and Butterscotch Schnapps. 
With a squeeze bottle, coat the rim of the glass with caramel and sprinkle the coarse salt over the caramel. 
Top with whipped cream and a drizzle of caramel. Place a cinnamon stick in the glass and volià, your Boozy Salted Caramel Apple is complete and ready to serve.
Happy Sipping!
More Fall Recipes from Momtrends
PIN IT!
Use Pinterest to save your favorite recipes ideas. Be sure to follow our Apples board here.