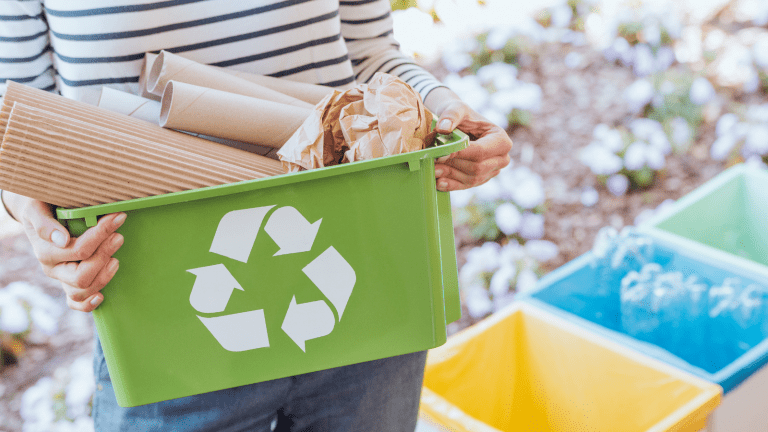 Waste Less with Glad
Glad encourages recycling and composting by providing tools and products to spread awareness about how to reduce waste.
Waste is a big problem in our country. We have gotten better with recycling, and even composting in some communities but there is still a lot of work and awareness needed to help consumers waste less. At a recent event, I learned more about an incentive established by GLAD and how they are helping consumers by providing products that use 6.5% less plastic as well as bags that are stronger, so that they can last longer. The company is also encouraging more people to recycle and compost by providing tools and products to spread awareness about how to reduce waste.
Related: Our favorite kitchen compost containers.
Starting with their product line, the containers from GLAD stretch and hold more to reusable containers to bags with odor-neutralizing technology that prevent throwing out smelly trash before bags are filled. They also have innovative recycling bags like their Clear Bags that are strong and durable for easy-pick up and their innovative Compostable Bags that can be used with applicable municipal compost programs as well as provides for a cleaner compost bin.
Going beyond bags, GLAD is also committed to recycling where they reuses scrap plastic left over from the manufacturing process, we reduced packaging materials for their Glad Tall Kitchen trash bags, and we send whatever we can't re-use to be recycled. They have also invested a lot of resources into reducing our energy footprint, from sourcing and manufacturing to delivery.
In terms of composting, GLAD has also partnered with local programs like NY Compost, which provides residential compost pick-up by bike for NYC residents where there is currently no city-wide residential compost program. They are also partnering with cities to promote zero waste efforts across the country. This includes Seattle where we helped promote participation on the city's composting program through product sampling and education initiatives at city events and with local bloggers.
GLAD also announced a collaboration with the Association for the Advancement of Sustainability in Higher Education (AASHE), a non-profit committed to advancing sustainability in higher education, to help football programs across the nation to reduce waste. Through this program, a series of grants to AASHE college and university members are designed to help put new sustainability programs into play, and is also supporting a higher education sustainability working group. This group recently released the "Collegiate Football Sustainable Materials Management Toolkit," a guide for institutions of higher education across the country to implement or improve their game day recycling and sustainability. The collaboration also includes on-going awareness and education around waste reduction efforts in stadiums and tailgating areas.
MORE ECO-FRIENDLY IDEAS FROM MOMTRENDS
PIN IT!
Use Pinterest to save your favorite ideas from Momtrends. Be sure to follow our Momtrends here.
Momtrends was not paid for this post.