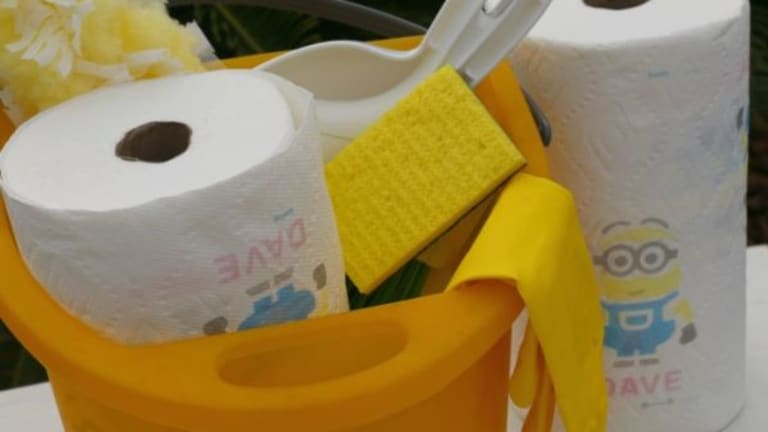 How to Keep Your House Clean for Showings
Attempting to sell your home with kids in the house is tough, here's how we navigated the cleaning.
What is the most stressful thing you can take on as a mother? I can tell you exactly what that is. Attempting to sell your home with kids in the house is like nothing I've ever experienced. Bwah! I had no idea how tough that would be. Silly me. Because you're not just keeping the house up as you would if you and your family were living your day to day, business as usual. No, no. You need potential buyers to be able to envision themselves living in your home and that means it has to be clean, picked up and clutter free whenever you show it. 
Related: Get our spring cleaning printable checklist
How to Keep Your House Clean for Showings
How exactly do you accomplish that with kids underfoot? Well, the answer is to get them involved in the process. Have them help you keep the house clean! If they feel like they're an important part of the whole selling/moving to a new home deal, they'll be more likely to play nice and not demolish the house like they typically do. Or is that just just my kids? Haha! Ok, on that note, let's talk about how to keep your house clean for showings! 
Have them pick up their room every night before they go to bed
If everyone spends a few minutes before bedtime making sure their bedrooms are tidy, it will be much easier to get out of the house fast if you need to. The key is having a place for everything. I have bins that my kids can easily store their toys in and those bins can stay in the room tucked away or I can even pick them up and take them with me. There have been plenty of times where we've had very short notice for viewings and if we hadn't been keeping things clean, picked up and clutter free, we wouldn't have been ready in time. If you're serious about selling your house, you need it to be show ready at all times!
Have a kid-ready cleaning kit on hand
My daughter, in particular, loves to "help." So, when I put together a little cleaning kit that was just hers, she went all in with helping us keep the house nice and clean for showings. I included items like a little dust pan and broom, sponge, gloves and our favorite cleaning must have, paper towels. It may seem like such a little thing, but it gave her a part to play which got her even more excited about our house sale and the impending move to a new home!
Have fresh flowers out
While this isn't exactly a cleaning tip, fresh flowers go a long way. They're a tiny little detail that can help put potential buyers at ease and make them feel like they really want to live in your house. That being said, fresh flowers can be messy, especially if you have tiny helpers helping you. 
So, if you're thinking about putting your home on the market and you have kids, never fear, they can totally help you keep your house clean for showings. 
MORE CLEANING HACKS FROM MOMTRENDS
PIN IT!
Use Pinterest to save your favorite tips and life hacks from Momtrends. Be sure to follow our Cleaning and organizing board here.