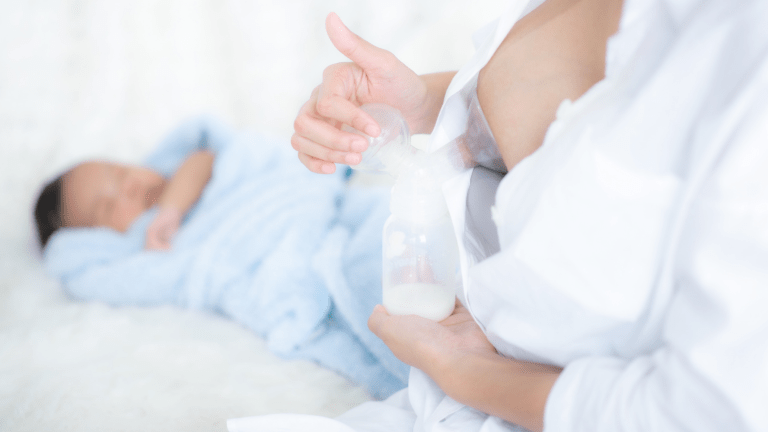 The Only Bottle Made for Breast Milk
August is breastfeeding awareness month: The nanobébé bottle preserves the nutrients in a mother's breast milk, and offers quality, convenience, and peace of mind.
The feeding section of a baby store is a veritable cornucopia of confusing bottle options. There are bottles made of glass, bottles made of silicone, bottles to combat colic, and bottles with fancy filters. There is no straightforward option, and selecting a winner from a sea of contenders can be downright daunting for first-time parents and experienced ones alike.
If you are a nursing mom, the quest for the ideal option to facilitate the tricky transition from breast to bottle can be even more challenging. All bottles can be used for formula or breast milk, but the nanobébé bottle is the first one designed specifically for the latter. This game-changing product offers moms a new way to store expressed milk and feed their babies.
A mom's breast milk offers unparalleled nutrition that evolves to meet a baby's ever-changing needs, and delivers a hearty dose of protective immunity, as well. These are among the compelling reasons the American Academy of Pediatrics and World Health Organization both recommend exclusively breastfeeding a baby for the first six months of his or her life. SMany busy parents find this notion to be impractical, though — if not completely discouraging.
Today's moms are often unable to spend a half a year nursing their babies on demand. What's more, it's important for a partner to be able to participate in early feeding sessions. This is why pumping, storing, and bottle feeding breast milk can be the happy medium parents are looking for. Nevertheless, shopping the different bottle options can feel like an exercise in compromise for a breastfeeding mom.
Hailed by Time as a top invention, and regarded as something with the potential to be "the next best thing to mom's breast," by a writer at Business Insider, the nanobébé bottle is changing that perspective. Designed by two bioengineer dads, the revolutionary bottle breaks the mold and disrupts the market with a cutting-edge design that protects the critical nutrients found in a mom's breast milk. Used with a breast-pump adapter, a mom can express milk directly into a nanobébé bottle, store it, and then feed Baby at a later time without sacrificing quality or convenience.
Breast milk loses some of its nutritional value after it has been expressed, and continues to degrade as it cools in the fridge or is heated for use. The unique concave design of the nanobébéb bottle, however, increases the surface area of breast milk, spreading it out into a thin layer, so that it cools down or warms up to two to three times faster than it would in a traditional bottle. This helps to reduce the production of bacteria and protect the vital nutrients in breast milk.
Getting the botte to the right temperature quicker also means you can get it in your baby's mouth sooner — something any sleep-deprived parent will confirm is key during those fussy middle-of-the-night feedings.
The nanobébé's breast-like shape and size provide a breastfed Baby with familiarity, and the easy-latch nipple encourages a smooth transition from breast to bottle. It's intuitive design also fosters those all-important fine motor skills and eventually encourages self-feeding. Finally, the nanobébé helps a partner or caregiver share in the unique and intimate bonding experience that is feeding a little one.
BPA and Phthalate-free, the nanobébé bottle is anti-colic — so it won't trap air bubbles that cause tummy troubles. For just $11 online or at major retail stores, it offers parents ultimate convenience and, above all else, peace of mind. Created with Baby's health and safety at the forefront of its design, the innovative nanobébé bottle might just be the no-brainer bottle pick moms and dads have been searching for all this time.
Want more from Momtrends?
1. Momtrends MVP's: Best Double Strollers
2. Preparing a Child for the Arrival of a New Baby
This is not a sponsored post. All opinions are our own.