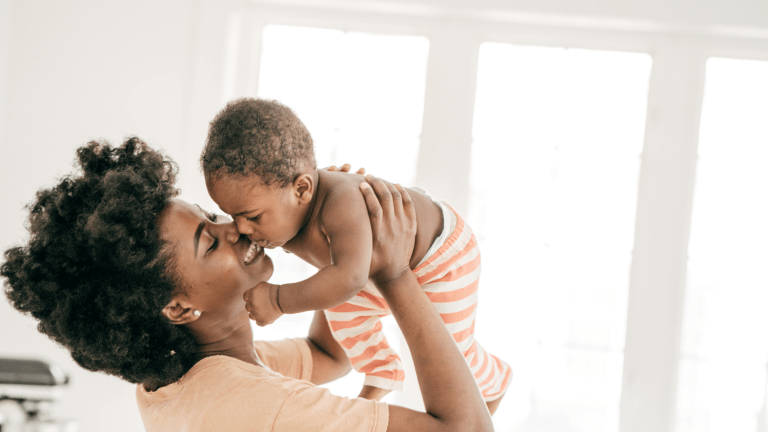 Breastfeeding and the Black Mom
Breastfeeding and the Black Mom tips from author Kim Sears to encourage more moms of color to try breastfeeding and get the support they need.

Kimberly is the author of the award-winning The Mocha Manual and editor in chief of MochaManual.com, the fast growing web-based publication and lifestyle destination for today's African American moms and moms-to-be. And her recently released, Mocha Manual to Turning Your Passion into Profit, is a must-read for aspiring female entrepreneurs.
Related: Best breast pumps and gear
I want to share Kim's knowledge about breastfeeding. And the author generously has shared links and given me an exclusive Momtrends interview.
Why did you try breastfeeding? I don't remember ever having a mental deliberation about it. I always knew that I would. I read that breastfeeding was best for baby and I wanted to do it.
What was your support mechanism?Since I'm a first generation breastfeeder, support was a little difficult. The hospital where I delivered had an active breastfeeding support group and I went there religiously in the beginning and then about once a month once I became comfortable. But if there was ever a problem or a change in feeding habits or any question, I'd pop right back into that group, no problem. I also attended a local la leche league meeting once.
What are some of the factors unique to black moms when breastfeeding?For over 20 years black mothers have had the lowest breastfeeding rates, particularly when it comes to the recommended 6 months of exclusive breastfeeding. The factors are complex: historically black women served as wet nurses to other children and often not allowed to nurse their own, there's a perception that breastfeeding is for those who don't have money to buy formula and black women don't want to be perceived as poor, and many black women have to go back to work very soon after giving birth and so it becomes a lifestyle issue. 
On the broader scale, we haven't had a modern black woman become the face of breastfeeding, supporting it the way white women have had with Angelina Jolie and others. I'm hoping Michelle Obama will change that. She has a new obesity initiative and some studies show that breastfeeding reduces obesity in children. It also helps moms lose more baby fat a lot quicker.
FOR MORE MOMTRENDS MVP WINNERS, CLICK THE LINKS BELOW:
PIN IT!
Be sure to save your favorite gear for baby on Pinterest. Please follow our Gear for baby and kid board here.