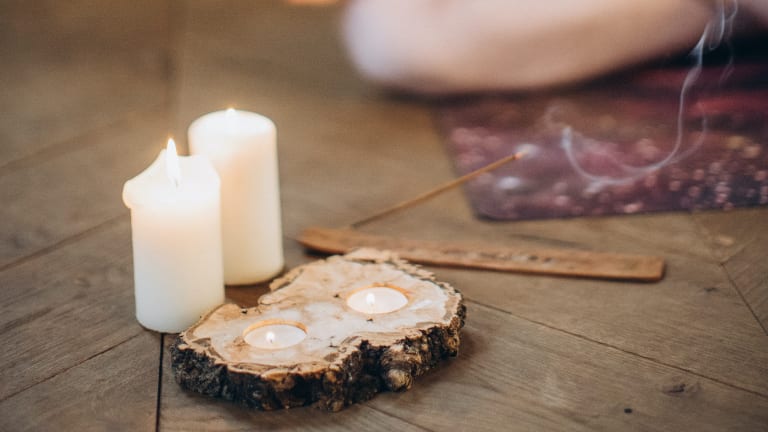 The Simple Truth: Meditate Your Way to the Body/Life You Love
What if I told you that by taking 10 minutes out of your day to do a simple, enjoyable thing- you'd have more focus, less stress, more happiness AND the time and energy to workout?
Happy March! How are your New Year's resolution going? Dropped by the wayside you say? Too much other stuff going on- too many people besides yourself to take care of? Tell me about it. What if I told you that by taking 10 minutes out of your day to do a simple, enjoyable thing- you'd have more focus, less stress, more happiness AND the time and energy to workout? This is no bull- I've been doing this for the past 4 days and I tell you with all seriousness that I feel different, I'm thinking differently and it's only getting better.
Related: How to put a bit of romance in your day
Meditate Your Way to the Body/Life You Love
Jeff Cannon is teacher, author and the founder of The Simple Truth. This came to me in the form of his book The Simple Truth- Jeff also works with individuals and groups teaching meditation and mindfulness to help us evolve our lives into ones we love. I had the pleasure of interviewing him and am very excited share his insights.
Lawson: Thru fitness we attempt to change our bodies from what they are into what we want them to be. You talk about not changing, but evolving. How can we implement that idea in our daily lives and exercise habits?
Jeff: Change implies negativity. Evolution implies growth. Gaining awareness equals acknowledging growth. By accepting our faults and acknowledging growth a little goes a long way and we realize health and fitness is a never ending process of evolution as opposed to something we have to change about ourselves right now. 
In other words: Don't change your diet- grow it into something you can deal with that's healthful and gives you the fuel you need. Let your workouts evolve into something you love that serves you as opposed to trying all the latest fads or following what works for others.
Lawson: We utilize diet and exercise to uncover the us we want to see as opposed to what's there at this moment. How does your theory speak to that idea?
Jeff: The You inside of you theory speaks to the fact we were born a certain way. For instance I may love to sing, but that doesn't necessarily mean I should attempt a career as a professional opera singer. By looking at the reality of who we are, not hinging our desires on who we're not we can accept ourselves instead of pretending. Acknowledge who you are and highlight your natural being- what you enjoy and remove the layers of unrealistic thought.
In other words: Don't bring your trainer a picture of Heidi Klum and tell them that's your goal! Decide what you want and ask yourself is this realistic? Or am I about to drive myself crazy? Keep it real and take a minute to honestly focus your fitness goals. Choose ones based on health and the reality of who you are.
Lawson: Mom's are constantly multi-tasking- focus is the key to our survival and can help us attain our fitness as well as life goals. How can we focus our unfocused minds?
Jeff: 85% of the time we're either thinking about the past or the future which means we only spend 15% of our time in the present. Our brains weren't designed to multi-task which is why when we do- we feel stressed out. Buddhists have a term called monkey mind which isn't about relaxing, it's about training the mind to focus. It takes 10 minutes of daily meditation to physically evolve the brain. We all have an auto response to daily situations. If we train ourselves to hit pause, take slow breaths to access the parasympathetic nervous system, do a single minded task (just wash the dishes- just vacuum the carpet). We can cut the spiral of stress and bring ourselves back to a mindful place. If we meditate daily, finding that mindful place becomes a habit.
In other words: We're doing ourselves a disservice by constantly multi-tasking. Try slowing down and only doing one thing at a time with focus. You'll be more engaged and connected to what you're doing thereby enjoying it more no matter what it is. I've been trying it for the past 4 days and am actually getting more done in less time.
Lawson: Mom's and mindful eatingconsidering many of us think the crust off the PBJ lunch sandwich is breakfast and the left over hot dog mac-n-cheese combo off the kid's plate is dinner how can Mom's implement mindful eating to save ourselves and our waistlines?
Jeff: By taking just 10 minutes to eat our meals, rid ourselves of distraction and focus on what we're eating we can dramatically influence what we eat and how our bodies use those nutrients. Focus on the color, texture and taste of what you're eating- that bag of Cheetos doesn't look so appetizing now... focus on the friends and family you're eating with. Make eating a mindful moment to make good choices and enjoy your food.
In other words: Stop, look, listen, taste, enjoy. No more mindless eating!!
Lawson: Overcoming the expectations of others is a challenge. As parents we often feel judged, we also tend to judge our our bodies… how can we over come the expectations of others, ourselves and lead our kids by example?
Jeff: Forgive yourself and forgive others. Most judgement comes from someone else's unhappiness. If you can see that in a compassionate way and understand that it's not so much about you – you can move on and evolve as opposed to dwelling. Same with fitness, if you miss a workout, forgive yourself and workout tomorrow. It doesn't mean you're a failure, stay focused and don't let it snowball. You're kids will automatically learn from your behavior.
In other words: Every moment is another chance to do it right. Don't beat yourself up if you eat a cupcake or skip a workout- let that inspire you to eat smarter and workout knowing that from time to time it's ok to blow it. Compassion is contagious, let your kids have it!
Lawson: Lastly, 10 minutes... really? How?
Jeff: Set up your 10 minutes and understand that your brain is going to play tricks to attempt to distract you from your meditation. Check your e mail, make a cup of coffee... don't fall for it- laugh at it, "nice try brain, I'm gonna do this anyway."
You can sit, walk, lay down be sure you're comfortable
Breath down deep into your stomach
Breath in for 6 slow counts- hold for 2- out for 6 slow counts
Thoughts will come into your mind- let them, acknowledge them and let them flow back out staying focused on your breathing.
It's that simple.
In other words: I've tried meditation many times throughout my life but for some reason this book spoke to me and I've had the most productive, enjoyable time practicing. I invite you to try it – you've got nothing to lose but your stress. You never know what will open up for you if you give yourself 10 minutes to let it happen. Keep me posted on your progress by responding to me here at Momtrends. We'll do it together. 
WANT MORE WELLNESS FROM MOMTRENDS?
PIN IT!
Use pinterest to save your favorite ideas from Momtrends. Be sure to follow our Fitness and health board here.
Momtrends was not paid for this post.