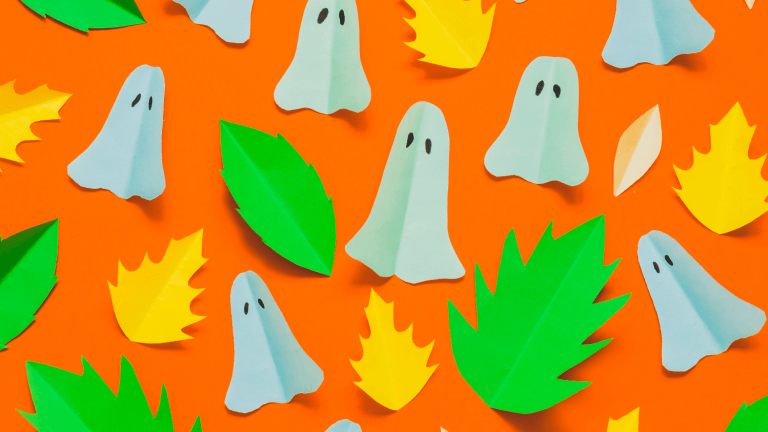 Halloween Book Picks for Kids
Our top Halloween Children's book picks this month to kick off the Halloween season.
Halloween is drawing near. Whether you're putting the final touches on a homemade creation or stopping by the store to buy this year's must-have costume, why not take a break and read a new Halloween story with the kids? There are lots of spooky tales in stores and on-line now that your precious, little goblins will love. Many of these titles are also available in e-book format and can be downloaded in under a minute. To help you get started, here are our top Halloween book picks this month.
Related: Spooktacular kids books for Halloween
Zen Ghosts by Jon J. Muth is a wonderful for grade-schoolers. The author/illustrator, Jon Muth captures the beauty and excitement of the season in this new classic. Stillwater the panda has a knack for supplying equal doses of wisdom and fun. With Muth there's always a lesson in every book.
Switchcrafted: The Story of the Switch Witches of Halloween by Switchcrafted is a Halloween treat for parents and kids alike. This hard cover keepsake box set includes a 20-page storybook, an 8.5" Switch Witch doll, and a Trick-or-Treat bag. For those parents who are not too keen on the sugary treats synonymous with Halloween, you'll love the Switch Witches who trade candy for toys and healthy treats. This ingenious product geared for kids 3 and up will most likely become your new Halloween tradition.
Little Boo by Steven Wunderli for kids ages 3-7 is a simple story about a pumpkin seed who wants to grow up. Little Boo wants to be scary, but he just can't seem to frighten anyone. He tries to spook the snowflakes in winter, the bees in spring, and even attempts to startle a watering can. No such luck for this tiny seed with little patience. Then one day, his dream finally comes true when he turns into a jack-o-lantern. This sweet Halloween tale has vivid illustrations and easy-to-read sentences for beginning readers.

Splat the Cat and the Pumpkin-Picking Plan by Rob Scotton is an autumn-inspired tale written for kids ages 4-8. Splat, along with his friend Seymour, is off to the pumpkin patch in search of the biggest pumpkin he can find. Yet when he picks the perfect one, Splat the furry cat can't seem to figure out how to get it home. This cute tale comes complete with stickers, which every kid loves. If your child likes this adventure, there are plenty more to choose from in this delightful series.
My Little Pony: Tricks and Treats by D. Jakobs is the newest release in the My Little Pony series loved by kids ages 4-8. The ponies in Ponyville are all dressed up for a frightful night filled with lots of candy, spooky stories, and scary costumes. The colorful Halloween illustrations bring this story to life making it easy for kids to read along. As an added bonus, it also includes stickers for your child to enjoy.
Bats at the Library by Brian Lie will inspire your kids to visit their local library branch. When a window is left open at the library, the bats fly in on a mission to find their favorite books. Story time begins for these spooky night creatures as they cluster around to hear bat classics like Goodnight Sun and Little Red Riding Bat. The detailed pictures adeptly capture the children's interest as they get lost in the darkness of this eerie tale.
WANT MORE FROM MOMTRENDS?
PIN IT!
Be sure to follow Momtrends on Pinterest and for more spooky inspiration follow our Halloween and Thanksgiving Boards here. 
Momtrends was not paid for this post. We were give samples for review. This post may contain affiliate links. By clicking and shopping, you help support Momtrends and allow us to keep reporting on trends.
For even more Momtrends, follow us on Facebook, Twitter, Pinterest and Instagram!