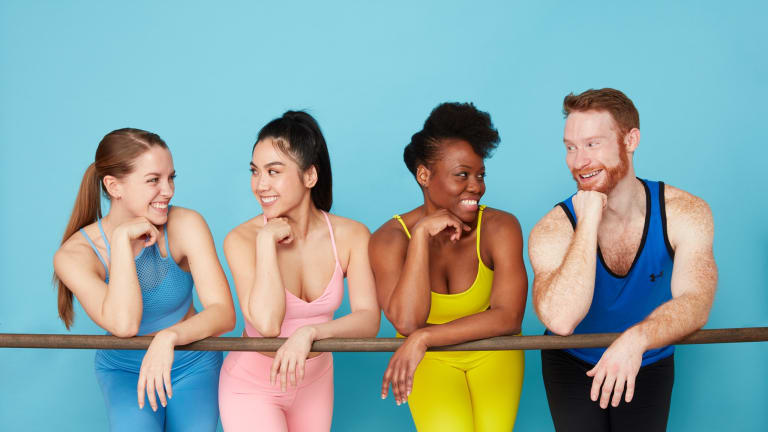 Book Review: The Physique 57 Solution
Now more people can practice this innovative exercise program at home with the company's new book.
I am all about finding fun ways to exercise that don't require me to go to the gym--that's where the Physique 57 Solution comes in. With two children my time is precious so my exercise has to incorporate something that will keep me moving as well as something that motivates me to keep going for weeks on end.
Related: Five minute arm workout
Physique 57, a barred-based technique with studios throughout NY, the Hamptons and LA. Demi Moore, Kelly Ripa and Parker Posey are all fans of the system and its formula of interval strength training, isometric exercises and orthopedic stretches to systematically lengthen and sculpt the muscles. 
Now more people can practice this innovative exercise program at home with the company's new book: The Physique 57 Solution: The Groundbreaking 2-Week Plan for a Beautiful, Lean Body, a two-week program that is designed for losing up to 10 inches as well as a way to drop pounds. I was really interested in losing weight, per se, but I wanted to find a program that would 'tighten' and sculpt my muscles as well as one that would introduce new strength training exercises to my otherwise dull routine.
Written by Tanya Becker and Jennifer Maanavi, the book is broken down into steps including 'The Method,' 'The Moves,' 'The Workouts,' and 'The Menu' and written in a clear and informative way to encourage home exercise with results. Those unfamiliar to the Physique 57 Solution will get a quick tutorial in the book that explains how the program is designed for maximum effectiveness that includes a warm-up and cool down as well as exercises for the thighs, seats, abs and back. 
I loved how the required tools were 'muscles' and 'determination' and not always with weights. That being said, the exercises does use some props - chairs and cushion - to assist with positioning and when weights are indicated they recommend to use the heaviest weight to perform fewer reps and see better results. As the book notes, "the physique solution is not about being super skinny, but about gaining strength, building muscle, and feeling great in the body that you've got." Gotta love that!
Creating a Plan
Through the plan established in the book, I worked out everyday for two weeks with a few 'free days' of rest sprinkled in. I started with a 'warm up' that the book notes does not start slow, but rather, "dives right in" to get the muscles pumped and the heart rate up. This includes warm-up exercises like tricep dips, rows with wide elbows, bicep curls and hammer curls (to name a few) that are all accompanied by photos, steps on how to complete the rigors moves and tips on how to vary the movements. The thighs, back and arm sections all also include the same through guidance - complete with pictures and step-by-step tips - that are designed to boost weight loss results.
In addition to the intensive program, the book also includes a healthy eating menu plan with a guideline on how to cut out the junk like processed food, makeover your kitchen by getting rid of anything fake or processed, how to eat macronutrient foods, how to choose organic and local, and how prepare your food the right way. They also include a list of the proper items to have in your pantry and a meal plan to accompany your two-week exercise. In addition to the straightforward tips, this section also includes healthy ways to prepare foods and delicious recipes like a Breakfast Egg Salad, BBQ Chicken, and even an interesting recipe for Green Pancakes with kale, quinoa and spirulina powder.
As someone that is not a big exerciser I really loved reading this book and testing out the method that was clearly illustrated and narrated to focus on form, calorie burning and muscle definition. For 2012, I think I found my new regime that is helping me to stay motivated and have fun as I achieve my goals.
MORE FITNESS IDEAS FROM MOMTRENDS
PIN IT!
Use pinterest to save your favorite ideas from Momtrends. Be sure to follow our Fitness and health board here.
Momtrends was not paid for this post.