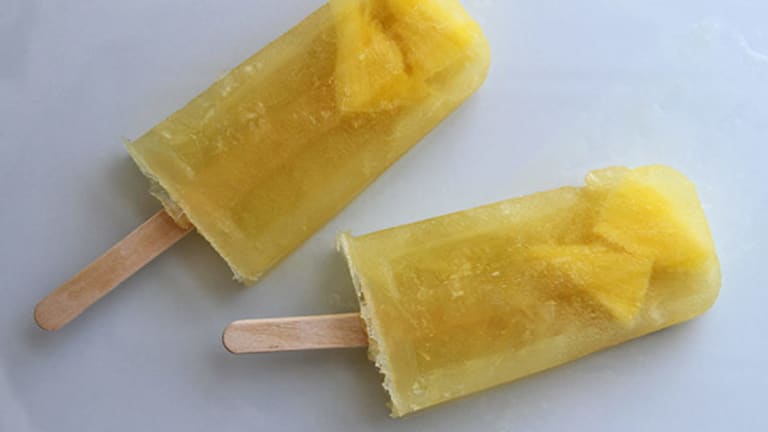 Treat Yourself: 4 Ways to Get Your Frozen Pop Fix
We've rounded up a few inspired Popsicle recipes for your pleasure and refreshment.
Can we talk about the totally amazing lime Popsicle I had at the #MomtrendsBTS event last week?!?… It was delicious and refreshing and my absolute ideal summertime treat…
And that's mainly because it was soaking in champagne. (Hehe!)
Yep, give me a popsicle and soak it in Cava and call me a happy Mama. (After 5 PM of course.)
It's a celebration in a glass, a delight on a stick, and a party in mah mouth.
Related: Sparkling rose summer sangria cocktail recipe
Why we love popsicles
Popsicles are an iconic seasonal dessert. Whether you're a grownup eating a boozy version or a kid waiting for the ice cream man to make his neighborhood rounds, there are few treats that can cool you off and leave you satisfied like a fresh and fruity ice pop.
It's a scorcher today (and tomorrow is supposed to be a whopping 97 degrees in NYC), so I've rounded up a few inspired Popsicle recipes for your pleasure... and refreshment. Dip it in Prosecco—or even ginger-ale for the kiddies… and enjoy! Stay cool, friends.
4 Ways to Get Your Frozen Pop Fix
Prosecco Pop: Our colleagues over at Momtrends deserve all the credit for this stroke of brilliance. This is so easy, but equally impressive for a dinner-party dessert slash after-supper refresher.
Rosé Popsicles: Yep, no need for a separate glass of champagne. This recipe is made with strawberries and rosé (as in yes way rosé.)
Pineapple Popsicles: We're on a pineapple kick lately. How amazing would these pops from Take Time for Style have been at our very own pineapple party?!
Firework Popsicles: It's the season of Americana. Bookmark this red, white, and blue firework-inspired ice-pop recipe for your end-of-summer Labor Day barbecue!
MORE COCKTAILS AND ENTERTAINING IDEAS FROM MOMTRENDS
PIN IT!
Use Pinterest to save your favorite cocktail ideas. Be sure to follow our Drinks board here.
This is not a sponsored post. All opinions are our own.