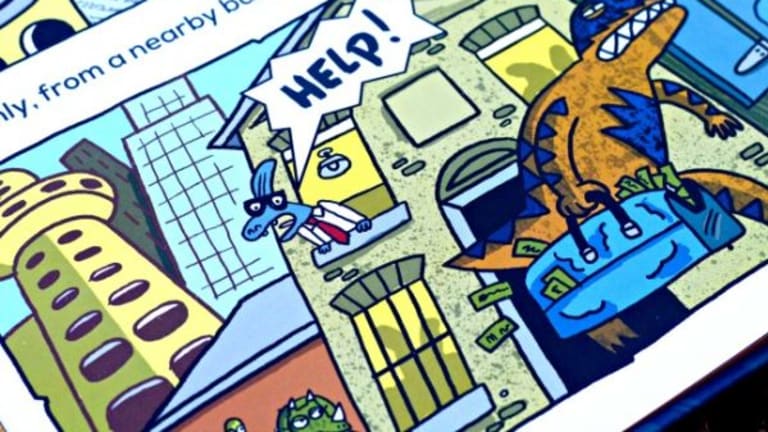 T-Rex Terror: The Supersaurus Legend Begins
Children's Book Review: Combine dinosaurs and superheroes and you've got Dino Supersaurs.
Most little boys like dinosaurs.
Most little boys like super heroes.
Combine dinosaurs and superheroes and you've got Dino Supersaurs. 
It's the fight of good versus evil in T-Rex Terror The Supersaurus Legend Begins by Timothy Knapman and Tim Wesson.
Got a Dinosaur lover? Check out our awesome dino-themed birthday party.
The Supersaurus Legend Begins
In T-Rex Terror we learn the story of the supersaurus legend and are introduced to the new dinosaur superheroes.
It all beings on a quiet day as few young dinosaur friends are playing in a park. Suddenly, they are struck by a giant meteorite and their lives are changed forever! The dinosaurs gain superhero powers and become supersaurus! The supersaurus characters are full of adventure and excitement and ready to save the day!
T-Rex Terror is a large hardback picture book that features colorful and bold illustrations. We love it's fun comic style approach to a picture book. It definitely delivers more action per page because of the comic book layout.
In T-Rex Terror the Dino Supersaurs have to save New Dino City, a dinotropolis, from Tyrant tyrannosaur T-Rex and his army of ninja Raptors. T-Rex has a sinister plan to take over the city. Are the Dino Supersaurs and their galactic superpowers strong enough to stop him in his tracks?
When their buddy Doc is kidnapped by the evil T-Rex, the dinos are to the rescue. It's crunch time as they hop into their dinocoptor and head to Volcano Island to battle T-Rex and his super sneaky, super evil raptors to save their friend.
T-Rex has set lots of traps to bring an end to the Supersaurs. Will his evil plan work? Go Supersaurus!
T-Rex Terror The Supersaurus Legend Begins is full of dinosaur humor and is an action packed adventure on every page!
From the very captivating hologram cover to the clever characters and sinister bad guy, any fan of dinosaurs and superheroes would love to add this new book to their library.
More Dino Supersaurus fun
For even more Dino Supersaurus fun check out these activity books:
Scribblasaurus Book / Build and Play / Stickersaurus / SuperPower Coloring / 2000 Stickers
More Ideas to Make Learning Fun
PIN IT!
Need more ideas on books for kids? Be sure to follow our What to read board on Pinterest here.
This is not a compensated post. We did receive samples to review. All text and opinions are our own. This post contains affiliate links, thanks for your support.