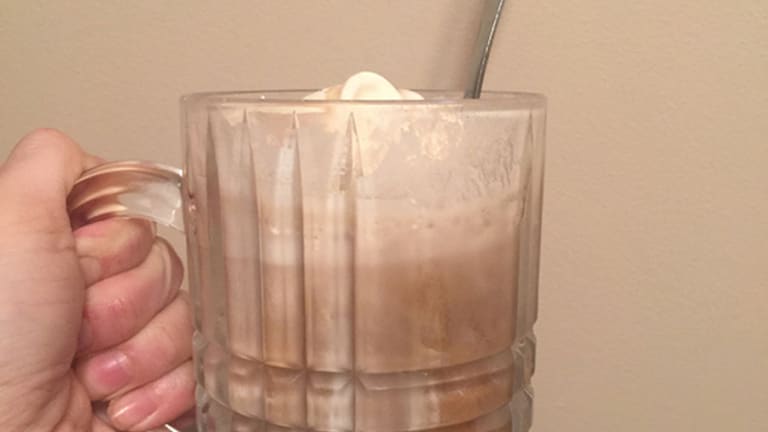 St. Paddy's Day Ice-Cream Guinness Float Recipe
Guinness and ice cream combine for a naturally perfect vehicle for a spiked dessert.
Back in college, I was pretty high maintenance... I could never just roll up to the local bar or frat party and accept a cheap beer. I needed a fancy, fruity, and frivolously expensive cocktail of sorts. Or two. Or three. (Ummmm, not that I drank all that much in college, Mom and Dad... You guys reading this?)
Needless to say, beer was never my thing. I liked wine. I liked margaritas. I liked anything with a sweet and strong kick. But beer? Nah. All those bubbles, all those calories, all those carbs—bottle after bitter bottle.
The Charm of Guinness
Throughout my twenties and early thirties, I continued to turn my nose up at any and all brewskies. Until one day, when I found myself "snowed in" (and abandoned) at the local Irish hole-in-the-wall bar across from my LIRR train station. No car, no cabs, and no end in sight... Just a warm place to hunker down until the storm calmed down. With a $20 credit card minimum, I sat at a bar stool and dubiously looked at the menu. The cocktails did not look appealing—to say the least—and the wine list was not up to snuff... And so I did it. I went all in and ordered myself a Guinness. (The frothy top reminded me of a latté or a milkshake, so I figured I'd close my eyes and make believe.)
I hesitatingly took a first sip and—SURPRISE!—I really liked it. I thought it tasted like a cross between a coffee and dark chocolate—with a subtly underlying beer flavor, of course.
Since then, I've broadened my horizons and tried a few other brands and brews, and it turns out, my taste has evolved. But stouts—like Guinness, the traditional Irish beer—remain among my favorites.
St. Paddy's Day Ice-Cream Guinness Float Recipe
With St. Paddy's Day on the horizon, I decided to try combining two of my fave things: Guinness and ice cream. I already think that Guinness has a rich, creamy texture, so vanilla ice cream sounded like a naturally perfect vehicle for a spiked dessert.
I started by frosting my glass Tiffany's (a wedding item that I actually juse—hoorah!) in the freezer. (Just rinse your glass with cool water first.) Once it was sufficiently cold, I scooped some Häagen-Dazs vanilla into my mug and slowly poured my Guinness draft bottle on top. The result? This deliciously "spoonable" concoction...
It. Was. Awesome! These will definitely be reappearing come dessert time on St. Patrick's Day. I might even try replacing my vanilla with coffee ice-cream instead, to really enhance the espresso-y flavor in the beer. Mmmmm... Guinness + ice-cream + coffee—now those really are a few of my favorite things!
MORE ST. PATRICK'S DAY FROM MOMTRENDS
PIN IT!
Use Pinterest to save your favorite crafts, menus and parties for St. Patrick's Day here on the Momtrends St. Patrick's Day Board.
This is not a sponsored post. All opinions are our own.