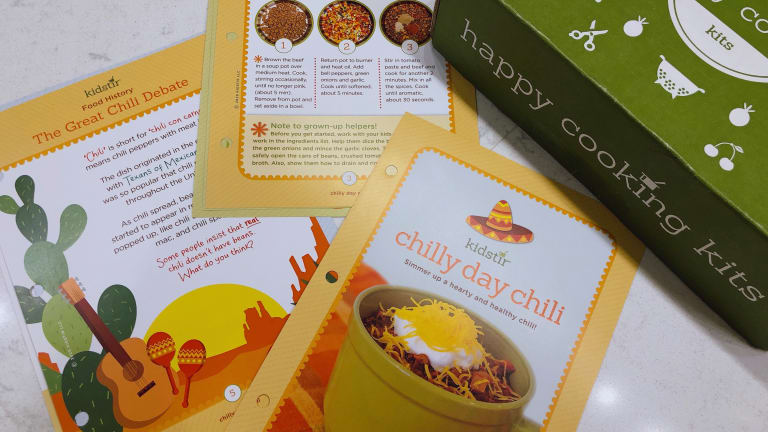 Get Kids in the Kitchen with Kidstir Monthly Cooking Box
The Kidstir subscription box is a great starting point for learning and encouraging cooking with your kids. Each month you'll get 3 new recipes to add to your cookbook binder and new tools to practice using.
Dining out isn't an option right now. Take out food is limited, this means more and more families are rediscovering the joy of cooking. Cooking takes practice and effort, and for parents now is a great time to start passing along this knowledge. Now is a great time to get kids in the kitchen with a Kidstir monthly cooking box.
Related: Sesame Street Monster meditation for kids to find stress relief
What is Kidstir
Kidstir is a monthly cooking box for kids that offers a hands on and fun learning experience with food. Kidstir empowers kids about food and offers them a chance to learn, try new things, get hands on with their meals, and make healthy choices when it comes to eating.
Each Kidstir box includes
2 kid sized tools
a special ingredient
shopping list
3 recipes
3 educational food fun pages
fun games and activities
Personalizable cookbook binder (comes in the starter box)
Get Started with the Shopping List
Our starter Kidstir box was all about dinner. My six year old helped prepare, from start to finish, a main dish, side dish, and dessert. First, we started by shopping for our ingredients and checking them off on our handy shopping list.
My daughter and I enjoyed getting to do something together, and she loved feeling so grown up helping me cook dinner. She was fascinated while learning about root vegetables as we were preparing them.
That one-on-one time in the kitchen is great for bonding families together and as kids get older, why not let them be part of making the dinner, not just eating it. We already sit down to family dinner each night and talk about our day. Now, we're expanding family dinner to include cooking family dinner together.
Kidstirs Cooking Tools
One of our kid sized tools in our box was the magic garlic bulb peeler. It was part of our "Root for Me" roasted root vegetable side dish.
Ariana loved that you could just pop a garlic clove inside, roll it around and it took the skin off the garlic clove. We needed 5 cloves of garlic for our recipe so this tool was really handy!
Our other tool included in our box was a set of silicone measuring spoons. Something everyone uses when they are cooking and baking. We learned about reading the measurements and practiced carefully pouring olive oil into our root vegetables after they were chopped.
She loved having permission to stick her hands in the bowl to help coat the vegetables.
The little guy didn't get to help much but he kept watch and made sure we were doing a good job cooking dinner.
While the vegetables were roasting we made our "Fancy French Chicken" with the special ingredient which was seasoning mix and a parchment bag to bake the chicken in.
After our chicken and vegetables were in the oven, we had a little bit of time before we had to prep dessert so we put together her cookbook. 


I love all the educational inserts that came in this month's box. We didn't have a plastic bottle to try the egg separating trick but we did learn about root vegetables and she practiced her skills of setting a table.
About 15 mins before our dinner was done we put together our dessert. We LOVE chocolate in this household so we were excited to get the Chocolate Lava Love cake recipe.
I couldn't believe how simple it was to put together. My six year old did the entire thing herself (except for pouring the batter into the ramekins).

After working hard in the kitchen my daughter was delighted to serve dinner! Fancy French Chicken and Root for Me vegetables.
We even discovered that we both liked beets. It was our first time cooking beets and I'm glad we took that risk because they were delicious!
Of course our chocolate lava cakes were a yummy way to end the night!
We definitely loved cooking together with the help of Kidstir!
Each recipe tells you what tools you will need and what kitchen skills you learn.
In this first box my child practiced these kitchen skills:
whisking
measuring
separating eggs
using a vegetable peeler
chopping
peeling garlic
seasoning with a spice rub
testing for doneness
cooking, roasting, and baking!
Why We Love Kidstir
Kidstir was started in 2014, and the amount of detail that goes into each box is amazing. You can tell they really put a lot of effort and creativity into making Kidstir a success with parents and kids alike.
The Kidstir subscription box is a great starting point for learning and encouraging cooking with your kids. Each month you'll get 3 new recipes to add to your cookbook binder and new tools to practice using.
You get to have fun as a family while cooking healthy and nutritious recipes together and teaching your kids important life skills. Subscribe to Kidstir here https://kidstir.com/
MORE KID-CENTRIC FUN FROM MOMTRENDS
PIN IT!
Need more ideas on what to do with the kids? Be sure to follow our Activities to Do with the Kids board on Pinterest here.