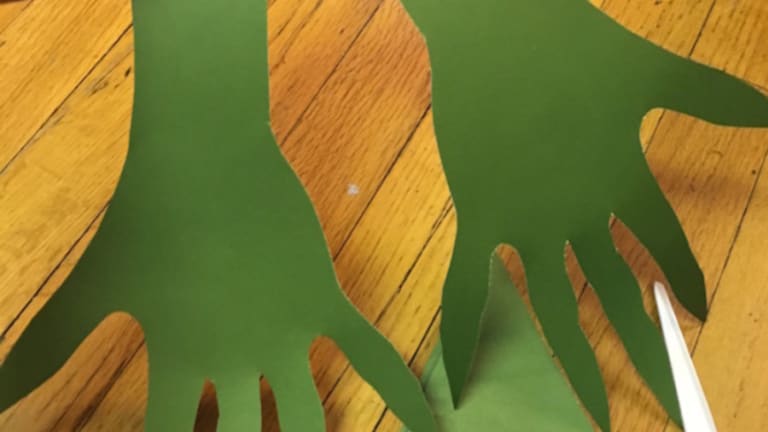 Publish date:
Easy DIY Door Decoration: Halloween Witch Hands
Slow down and create this easy DIY and slightly spooky door decoration for Halloween.
Slow down and create this easy DIY and slightly spooky door decoration for Halloween.
Starting in with the holidays signifies the mad-dash to the end of the year we all find ourselves in. Holidays can be overwhelming and the thought of decorating can be debilitating. Slow down and create this easy DIY door decoration.
Related: Our favorite wine and Halloween candy pairings
Halloween Witch Hands Materials
Here's the best part of this craft -- you barely need anything. Most likely you already have what you need in your home. You can get festive with just paper and scissors.
Halloween Witch Hands Instructions
To create these witch hands, all you need to do is trace your own hand and instead of rounding the fingertips, extend them to a point. Give the allusion that they are coming out from behind a door, and voila! You have a spooky (and oh-so-simple) decorative door.

Five Tips To For a Girl's First Leg Shave
Do you remember your first time shaving? Mine wasn't pretty. I snuck my dad's razor and shaved my legs dry. It wasn't pretty. Get your daughter ready for this rite of passage with the right tools and a quick education. We've got five tips to help you navigate your daughter's ...read more
Why You Should Add Wild Blueberries to Your Diet
Do your New Year's goals involve healthier eating? Adding more fruits and vegetables to your diet? Or even adding tasty new recipes to your repertoire? We've got five reasons for you to add wild blueberries to your diet. Our friends from the Wild Blueberry Association have ...read more
Why Moms are Loving This Blueberry Couscous Salad
It's blueberry picking time. And while most blueberry recipes revolve around baked goods, we've got something different to share. First, a few sentences singing the praises of this lovely fruit. Blueberries are high in antioxidants, improve memory function and reduce the effects ...read more
Halloween Witch Hands Video Instructions
All you need is a few simple supplies to make this a Happy (and spooky) Halloween!
WANT MORE FROM MOMTRENDS?
PIN IT!
Be sure to follow Momtrends on Pinterest and for more spooky inspiration follow our Halloween and Thanksgiving Boards here. 
This is not a sponsored post.